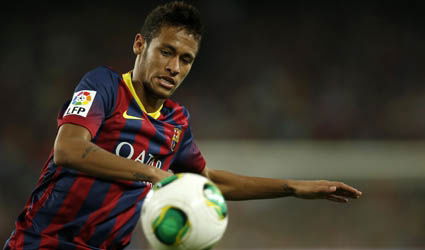 (Reuters) – Barcelona are preparing to unleash the speedy Neymar on Celtic in the Champions League, hoping the 'next Lionel Messi' can inspire them in the absence of the real one when they face the team who stunned them last season.
World Player of the Year Messi was ruled out with a hamstring problem before the Spanish champions headed to Scotland for Tuesday's Group H encounter against Celtic who still have fond memories of their 2-1 home win last November.
"We always miss a player of his talent – he can win a game at any moment," Barcelona midfielder Cesc Fabregas told a news conference on Monday.
"So obviously we are very sad for that but you cannot always put your head down and feel sorry for yourself if you are missing a great player.
"I think we have to step up all of us and make sure we don't feel his absence and we can still play great football without him."
Neymar, the 21-year-old Brazil forward who cost Barca 57 million euros ($77.16 million), is one of those who will be expected to do just that.
"He's a very talented player… he has the skills to get away from you easily and I think he's a star in the making," Fabregas said of the youngster.
"I think this boy will have a lot to say in the future of football and it's all up to him. Everything is in his hands. He came here to learn as he said, he came here to compete, to fight, to grow up as a player, as a person.
"He's still a boy and I think in the future we will be talking of him as one of the greatest."
GIFTED NEYMAR
Celtic manager Neil Lennon knows his team will have to watch out for the Brazilian, although he reckoned it was premature to be talking of him as the next Messi like many pundits have.
"He's wonderfully gifted… he's got goals in him," he told a news conference. "He's quick, he's only young, he's got a fantastic future ahead but I think it's too early to make comparisons to Messi."
While Messi's absence is a boost for Celtic, who lost 2-0 at AC Milan in their group opener earlier this month, Lennon also saw another side to it with the fans at Parkhead missing out on the chance to see one of the world's finest players.
"(It) is obviously very good news for us because for me he (Messi) is the best player in the world. But it is also tinged with sadness as it is always good to see the best players here in Glasgow," he said.
"They are a fantastic team and one of the favourites to win the trophy."
Barca, who won their opening game at home to Ajax Amsterdam 4-0, have other injuries apart from Messi with defenders Jordi Alba, Carles Puyol and Javier Mascherano ruled out.
"They have defensive problems through injuries but they're keeping clean sheets. Regardless of personnel they are defending well," Lennon said.
"It will be, at times, containment. Limit them to as few chances as we possibly can. They're not like any other team. Barcelona, in my personal opinion, are a class above, and have been consistently the best club side for 10 years now."