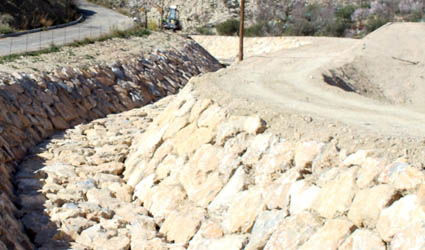 WORKS costing €4.6 million to prevent flooding at the Rambla de Nogalle, Velez Rubio are nearly complete.
The President of the Hydrographic Confederation of Segura (CHS), Miguel Angel Rodenas, with the mayor of Vélez Rubio, Miguel Martinez-Carlon, and a councillor of Puerto Lumbreras, Eliseo Sanchez, visited the works for 11 new levees.
It was decided to build the defences after severe floods in September last year. They are being paid for by the European Regional Development Fund (ERDF) of the European Union and the CHS' own funds. It is an agency under the umbrella of the Ministry of Agriculture, Food and Environment.
The aim of these 11 dams is to reduce the flood flows that start at the top of the Rambla de Nogalte and historically and repeatedly have caused serious damage to the towns of Velez Rubio, Pulpí and Cuevas de Almanzora in Almeria as well as in Puerto Lumbreras and Lorca in the Murcia region.
Four of these facilities are already operational with the other seven coming online in the next few weeks.
Meanwhile, the Ministry of Agriculture, Food and Environment, through the CHS  has completed the refurbishment and channelling of a canal, located west of Velez Rubio. The action aims to solve the problems caused by soil erosion that the force of water causes during episodes of torrential rainfall.