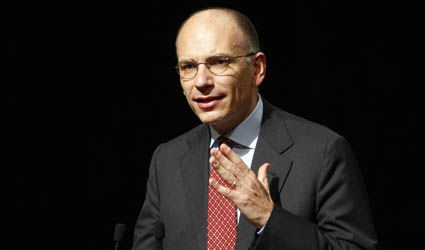 ROME (Reuters) – Senior party figures in Silvio Berlusconi's fractious centre-right movement urged Italian lawmakers on Tuesday to defy the billionaire media tycoon and back Prime Minister Enrico Letta in a confidence motion expected on Wednesday.
Berlusconi's People of Freedom (PDL) party has come close to breaking apart after he pulled his ministers out of the ruling coalition at the weekend and called for new elections following growing tension over his conviction for tax fraud.
Divisions between hardline "hawks" and more moderate "doves" have widened sharply as opposition has grown to Berlusconi's call to bring down Letta's coalition, five months after it was formed in the wake of deadlocked elections in February.
Italy, the euro zone's third-largest economy, has been in political turmoil for the past week, and even if Letta's government survives the vote, there is no certainty that his administration will be strong enough to enact effective reforms to confront its longest postwar recession.
However, the breakdown of unity in Berlusconi's party is a watershed moment for the man who has been the undisputed leader of Italy's centre right for two decades and opens an unpredictable new chapter in Italian politics.
Party secretary and Interior Minister Angelino Alfano and Transport Minister Maurizio Lupi, who handed in their resignations on Berlusconi's orders on Saturday, called on the party to back Letta in the vote expected in the Senate on Wednesday.
"I remain firmly convinced that our entire party should support Letta in a confidence vote," Alfano told reporters.
Letta rejected the resignations of Alfano and Lupi and the three other PDL ministers on Tuesday, a signal that he valued their public backing.
Berlusconi appeared to confirm an impending party split when he decided, after a meeting with his advisers, that he will ask his lawmakers to withdraw their support for Letta on Wednesday, Alessandro Sallusti, editor-in-chief of the party newspaper, said on RAI state TV.
Sources in Letta's centre-left Democratic Party said he had not yet decided whether to call a formal vote of confidence in parliament on Wednesday and was waiting to see what emerged from a frantic round of meetings on Tuesday.
If it does not appear that he has enough support from PDL rebels, he would hand in his resignation to President Giorgio Napolitano before a confidence vote. He could then be re-appointed to try to form a new coalition in parliament, setting off a new round of negotiations.
Letta's Democratic Party (PD) has a strong majority in the lower house, but in the Senate he would need to win support from the PDL or others such as the anti-establishment 5-Star Movement, which has said it will vote against the government.
The parliamentary arithmetic is complicated and deceptive, but to be sure of winning, Letta, who can count on 138 votes from the PD and centrist parties, would need at least 20 more votes for a majority in the 315 seat Senate.
About 30 PDL senators are willing to continue supporting Letta, one PDL source said.
However, the premier has made it clear that scraping through a confidence motion with a handful of votes will not be enough to be able to implement reforms and control public finances.
PDL moderates have called for a new direction in the centre-right and the removal of the ultra-hardliners who have gained increasing influence over Berlusconi in recent weeks.
But it is not clear whether Berlusconi, a billionaire media tycoon who has dominated the centre-right for 20 years, will be able to persuade potential rebels to return or whether the breakdown in his party is final.