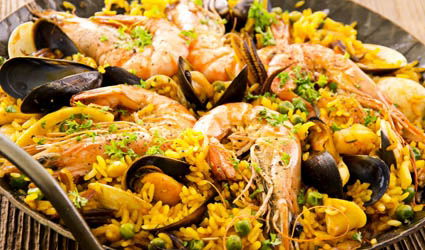 The answer is Cuenca.
The International Valencian Paella Competition was held recently in Sueca (Valencia) where Julian Garcia of the Posada Real in Santa Maria de Campo Rus (Cuenca) produced "the best paella in the world." 
He received a diploma and a cash prize of €2,500.
Second place went to Casa Picanterra in Cullera while third prize went to the Cambao Restaurant in Miami.  There were just two Valencian restaurants amongst the unplaced finalists.
All contestants had to use the classic ingredients of chicken, rabbit, snails, two types of dried beans, green beans, tomatoes, garlic, saffron, colouring, olive oil, salt and water.
The consistency of the rice, flavour, colour and appearance of the finished dish were all taken into account, plus the "soccarat."
These are the almost-burnt grains that stick to the bottom of the pan and which, connoisseurs claim, are the best part of all.
This was the 53rd edition of the Paella Competition with contestants from New Zealand, Japan, the US, France and Germany as well as Spain.