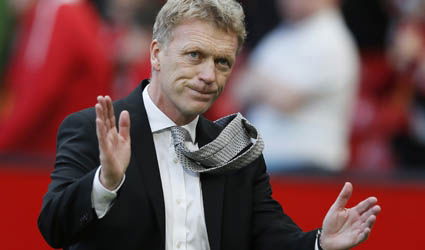 LONDON (Reuters) – In terms of managing expectations, David Moyes has done a splendid job so far at Manchester United.
Raising them might prove tougher though as United's worst start to a season since the early days of his predecessor Alex Ferguson in 1989 has left them down in 12th place in the Premier League after six games.
Replacing Ferguson always looked like being a tough task for the former Everton manager, especially when all the main title challengers invested heavily in new players during the off-season while United stood still.
The Reds made only one addition for the new season and Marouane Fellaini, whom Moyes signed from Everton on deadline day, did not even start in the 2-1 defeat by West Bromwich Albion on Saturday, with Moyes opting instead for Brazilian Anderson – a player who rarely got a look-in during Ferguson's latter years.
Even before a ball was kicked in the Premier League, Moyes was bemoaning a tough-looking fixture list which has seen United play Chelsea, Manchester City and Liverpool already.
That seemed to set the tone and after three defeats in their opening six matches fans are scratching their heads in bewilderment at their team's sudden fall from grace.
Rather than rant and rave about the shortcomings of his team, Moyes has remained calm and refreshingly honest but accepting second best is an alien concept at Old Trafford.
Moyes admitted Manchester City were "stronger and quicker" than his side after a 4-1 derby loss last week and, following a first home loss to West Bromwich Albion for nearly 35 years, Moyes simply said: "We are just not playing well…we were lacklustre in nearly all areas."
The Scot went on to water down United's Champions League chances ahead of a testing trip to Ukraine to play Shakhtar Donetsk on Wednesday.
"To win the Champions League, you need five or six world-class players," Moyes said, pointing to the array of match-winners at Barcelona, Real Madrid and Bayern Munich.
"We've not got that yet but what we have got is experience."
AURA LACKING
United began their Champions League campaign with a 4-2 home victory against Bayer Leverkusen but that, and an opening-day win at Swansea City, have been the only two performances showing hints of the old United swagger.
Ferguson was a master at instilling a sense of superiority into his players, even when things were not going well.
United's results last season in taking the title often masked patchy performances and the aura that Ferguson built up over the years was enough to intimidate mid-table sides such as West Brom.
It was clearly not in evidence on Saturday though as the visitors sensed United's unease and went for the jugular.
With bottom club Sunderland to come next weekend after the trip to Donestk, Moyes desperately needs two convincing performances to stem the flow of criticism about his team selection, tactics, training methods and his decision to change many of Ferguson's backroom staff.
Eric Steele, United's goalkeeping coach under Ferguson, was jettisoned along with assistant manager Mike Phelan and first-team coach Rene Meulensteen.
"He spoke to me, Mike and Rene," Steele told The Sun newspaper. "I told him I thought it was a brave decision.
"He listened to the manager's (Ferguson's) advice but he wanted to be his own man."
Moyes will need all the tenacity that marked him out at Everton in the coming weeks as he attempts to steer the United juggernaut back on course, although whether he has the tools at his disposal is doubtful.
The defence has looked vulnerable so far this season while the lack of flair in midfield and inconsistent displays from wide men such as Nani and Ashley Young are starving the strikers of the quality service they once thrived on.
Robin van Persie and Wayne Rooney remain the jewels in United's crown and Moyes will need plenty of goals from both over the coming months to at least keep United in touch with the Premier League pace setters.
Expectations have dipped in a surprisingly short space of time but languishing around in mid-table for too long is unthinkable at England's most successful club.