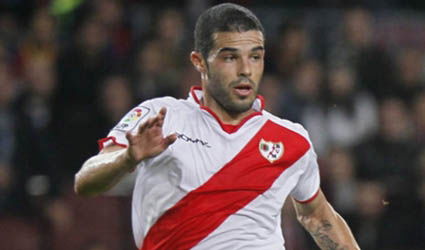 Malaga CF has signed defender, Jose Manuel Casado Bizcocho until 2014/15, with the possibility of extending his contract with the Martiricos Club for a further three seasons.
Casado plays as a left winger, and his excellent season with Rayo Vallecano last year sparked a lot of interest from major European clubs.  A cruciate ligament injury to his right knee, sustained on 12th May, prevented him from playing football, although he's now in the final stage of recovery as he joins the Blue and Whites.  Jose Manuel Casado will be officially presented on September 30 at midday in La Rosaleda's press room, and will then greet the fans for the first time, in his new Blue and Whites' uniform on the pitch.  Malaga fans who would like to attend the presentation can access the stadium via the 'Preferencia' section.
Career
Jose Manuel Casado Bizcocho is a left winger, who has played a total of 109 BBVA League games, making his debut in 2007/08 with Sevilla Fútbol Club.  It was there that Casado's career really began to take off.  He moved to FC Barcelona, but returned to Sevilla to play in the reserve team, and later moved up to the first team.
 
In 2008/09, Casado was loaned out to Recreativo de Huelva, where he took part in 19 First Division matches.  The following season, he was on loan to Xerez Club Deportivo, and played 27 First Division games.
 
In 2010/11, Casado signed to Rayo Vallecano, at the time in the Second Division.  The Sevilla-born defender played in the majority of the Second Division games (totalling 36), and became a fundamental part of the team's promotion to the First Division.  On Vallecano's return to the BBVA League, Casado took part in 32 matches in 2011/12, and 29 last season.
Medical examination 
Malaga CF's new player, Jose Manuel Casado, has passed the series of routine tests, undertaken at Clinicas Rincon by club medics.