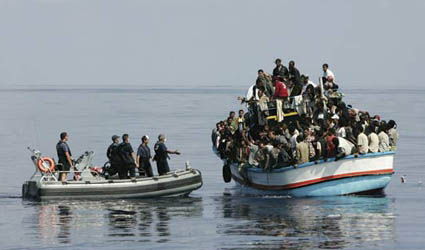 TWO men have been arrested accused of being in charge of small boat in danger of foundering crammed with 70 illegal immigrants.
National Police from Algeciras (Cadiz) arrested the two men after interviewing the occupants of the semi inflatable boat, measuring 10 metres by two-and-a-half metres, which was intercepted off the coast of Motril. It had no lights, lifejackets or positioning devices and the motor was in a poor condition.
Officers managed to indentify those in charge of the boat after a series of interviews with the immigrants, all of sub-Saharan origin.
One of the immigrants claimed to have paid €500 to be brought to Spain.
It is estimated the earnings from the trip exceeded €35,000, sources added.
Now two men, aged 28 and 25, have been arrested and remanded in custody.
The migrants faced a "real" risk of losing their lives because of sea conditions, said authorities.
The boat was spotted by a ferry covering the route between the cities of Motril and Melilla earlier in September.
Forty six men, 17 women and seven children, five of them toddlers, were rescued and taken to Motril port, as reported by the Euro Weekly News at the time.