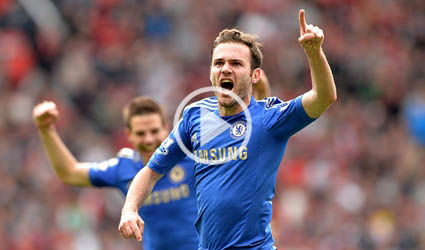 LONDON (Reuters) – Juan Mata won over coach Jose Mourinho after coming on as a halftime substitute to galvanise Chelsea to a 1-1 draw at Tottenham Hotspur in the Premier League on Saturday.
The Spain international has been in and out of the side under Mourinho this season with the Portuguese boss publicly stating that Brazilian Oscar has been his preferred choice in the playmaker's No.10 role.
Mata injected some impetus into Chelsea on Saturday though and Mourinho said he was so impressed by his attitude and recent performances he would definitely start against Steaua Bucharest in the Champions League on Tuesday.
"He is coming further towards what I want," Mourinho said. "I think this is the way players have to say 'I want to play.'
"'Blah blah blah is not good. Conversations with you are not good. Good is the effort he made against Swindon and the way he changed the team in the second half today.
"And because of that I am very happy to say that 72 hours in advance, he will play against Steaua Bucharest.
"He won that by himself."
Mata scored two goals and made another in this fixture last season when Chelsea came from behind to beat Tottenham 4-2, and although he did not score again on Saturday he set up Chelsea's equaliser with a 65th minute free kick which skipper John Terry nodded past Spurs keeper Hugo Lloris.
He also defended well and his neat touches helped change the balance of the match after Tottenham dominated the first half, taking the lead through Iceland international Gylfi Sigurdsson after a slick link-up between Christian Eriksen and Roberto Soldadao in the 19th minute.
In the first half Chelsea continually played the long ball looking to get into the space behind the Tottenham defence.
Fernando Torres appeared inspired by Mata's arrival and was a constant threat after the break until he was sent off 10 minutes from time for an innocuous clash with Jan Vertonghen.
Mourinho said that if Torres had not been sent off his side would have won.
WRONG DECISION
He was upset about the red card, claiming that Spurs defender Vertonghen had conned referee Mike Dean that he was injured by Torres leading with his arm.
Torres had earlier been booked for grabbing the Belgian international around the face, but Mourinho said Torres was the victim of Vertonghen's play-acting.
"The referee made the wrong decision but he is not guilty, because the referee trusts the player. When you see a player with his hands in his face and pretending that it was a violent action, the referee has to follow the player."
One sub-plot to what is always an intense derby was the relationship between Mourinho and Spurs boss Andre Villas-Boas who worked under Mourinho at Porto, Chelsea and Inter Milan.
Villas-Boas played down any rift with Mourinho after the game and instead concentrated on Tottenham's excellent first half performance.
Even though they had to settle for a point they have still only conceded two goals all season and the result lifted them to the top of the table, at least until Arsenal and Manchester City finished their matches later on Saturday.
"It was a hard battle, we had a very good first half, they had a good second and it was a fair result. The title though is not decided in games like this, it's decided in games where you must not lose points, but you do lose points.
"I don't want to talk about me and Jose, the focus should not be on us, but on the game. But yes I have his phone number and he has mine."