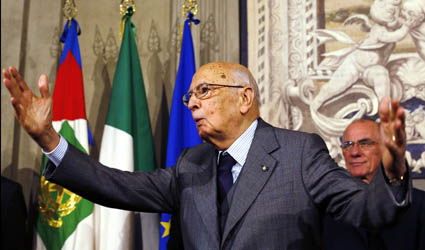 ROME (Reuters) – Italian President Giorgio Napolitano said on Saturday the country needed a stable government, not more elections, after Prime Minister Enrico Letta said he felt compelled to call a confidence vote this week that could lead to yet another poll.
Months of bickering within Letta's coalition government came to a head on Friday when a showdown with his centre-right partners, the People of Freedom (PDL) party of former Prime Minister Silvio Berlusconi, scuppered a package of vital budget measures.
Relations within the coalition have deteriorated since Berlusconi was convicted of tax fraud in August, and this week PDL lawmakers threatened to walk out of parliament if he is expelled from the Senate.
Letta, who was forced to fly back from New York on Friday to deal with the crisis, told reporters before he left the threat was "a humiliation, not of me personally, but of Italy."
Daily La Stampa on Saturday described the government as "hanging by a thread".
If the government falls, Napolitano would have to call an election or try to oversee the creation of a new coalition. On Saturday he gave renewed signals that he did not want a return to the polls.
"We need a parliament that discusses and works, not that breaks up every now and then," Napolitano said in Naples on Saturday.
"We do not need continuous election campaigns, we need continuity of the government's actions, decisions and its measures to resolve the problems of this country," he said.
Italy, the euro zone's third-largest economy, is struggling with its longest post-war recession, and constant wrangling in Letta's government since its appointment in April after an inconclusive national vote in February has held up reforms to tackle high youth unemployment and a huge public debt.
Opinion polls suggest the two main blocs in parliament have roughly equal support among voters and under Italy's electoral system, any new election would probably produce another stalemate.
But Letta has a commanding majority in the lower house, and if he can gain support from a few dozen Senators among the PDL or opposition groupings such as the anti-establishment 5-Star movement, he could form a new coalition.
Letta met ministers on Friday in a last-ditch attempt to secure approval for the additional budget measures, which are needed to bring Italy's deficit within European Union limits, as well as address a centre-right demand to avoid a sales tax hike to 22 percent from 21 percent.
But he said afterwards that all economic decisions were on hold until he clarifies whether he still has backing from the parties in his coalition.
Guglielmo Epifani, secretary of Letta's Democratic Party (PD), said on Saturday that the centre-left was sick of the PDL's brinkmanship.
"We can no longer return to a government that is exhausted day after day by threats and blackmail. It's not worthy of the country and the situation of crisis that it is in," Epifani told reporters. "This is the decisive week."
The timing of the confidence vote was not clear. The PDL's floor leader in the Senate Renato Schifani called for it to be brought forward to Monday so there was still time to avert the sales tax hike, due to kick in on Tuesday.