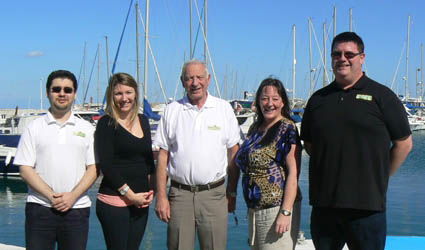 Winter is on the way and inevitably there will be meteorological-mishaps that will turn into nautical-nightmares for some boat owners. Storm damage in harbours is not uncommon, a boat breaking loose from its moorings will sooner or later crash into something, probably another boat. It's all part of the joys of sailing the ocean wave. 
So where is this apocalyptic quay-side chit-chat leading to? The answer is, to your boat insurance and a new and better policy. 
In or out of the harbour, insurance is there to assume the risk of unforeseen circumstances. The big get-out clause in insurance is "act of god", defined as "events outside human control, such as sudden floods or other natural disasters, for which no one can be held responsible". A big winter wave landing on your boat – act of god or not – is immediate and serious, regardless of the "small print" you either are, or are not covered. 
At Edward William Marine Services, all big print and storm insurance is central to the risk assumed. Some insurances exclude storm damage, which is a bit surprising considering the boating environment. Other insurances are vague, leaving room either for settlement deals or the classic no, not covered. 
The ideal insurance for most boat owners is a straight forward, easy to read policy, in English with a copy in Spanish at no extra charge, this is standard practice at Edward William. Insurance in Spain is compulsory by law, the question is only of cover. Fully comprehensive is not that much more costly than the minimum third party and well worth considering. A little extra invested now could save you a lot at the chandlers later on and will certainly cover damage caused by uninsured boats and storms. 
Edward William will quote you, for any boat, in any waters, any use, anywhere. They have a trusted reputation for personal service and first class marine insurance throughout Europe, Australia, New Zealand, The Americas, The Pacific Rim and the Caribbean, in the last 15 years they have created that same reputation here.
If you're in any boat business, quality "introducers" with integrity are welcome and  remunerated for their efforts. If you are a boat owner, visit www.edwardwilliam.com or call them on 952 476 090, it costs nothing to get a quote for your boat. Edward William, marine insurance underwriters, for any boat, any waters, any use, anywhere.