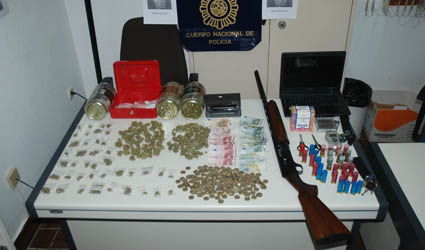 THE National Police have shut a marihuana selling point in Velez-Malaga as part of a plan to prevent drug trafficking.
Officers started an investigation earlier this month after receiving a warning about an active marihuana selling point in the Las Villas district in Velez-Malaga.
Surveillance set up immediately after allowed the officers to locate a house where a great number of people reportedly went to buy the drugs.
A further search confirmed the house to be a selling point as officers found drugs in glass containers ready to be sold.
Two people, a 31-year-old man and a 30-year-old woman, were arrested and charged with an alleged crime against public health.
According to police, the accused used their home as a selling point for drugs.
The man was additionally charged with illegal weapon possession as he had a hunting shotgun without the necessary permit.
One hundred and thirteen marihuana doses, a precision balance, tools to cut the drugs and €395 in cash as well as the hunting shotgun were seized in the course of the operation.