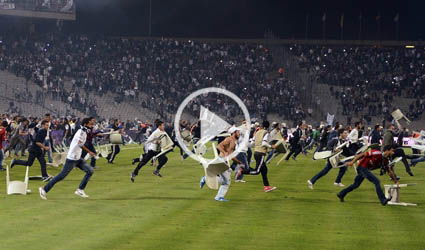 ISTANBUL (Reuters) – Turkey's Besiktas were ordered to play four games behind closed doors after hundreds of fans stormed the pitch and halted the Istanbul derby against Galatasaray on Sunday.
Besiktas coach Slaven Bilic was also banned by the Turkish Football Federation for three games and Galatasaray's Brazilian midfielder Felipe Melo was handed a two-game suspension after he received a red card.
Police used teargas in an attempt to restrain fans who rushed on to the field after Melo was sent off.
Galatasaray were leading 2-1 in the third minute of stoppage-time when the match was halted, sending the players sprinting for the safety of the dressing-rooms.
The match was the first Istanbul derby of the season and followed months of civil unrest in Turkey's largest city over government plans to demolish a park at the central square of Taksim.
Besiktas's politicised fan base, dubbed "Carsi", was a prominent force in the anti-government protests and often clashed with police during the peak of the unrest in June.
At Sunday's match, Besiktas fans chanted; "Everywhere is Taksim, everywhere is resistance," a popular chant from the park protest.