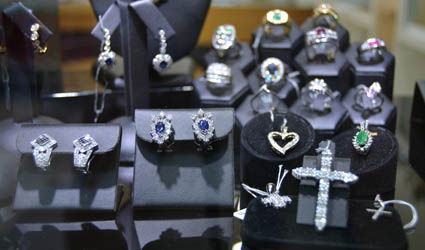 GOLD RUSH at the Zenia Boulevard shopping mall is celebrating their first anniversary and what a year it has been, having already served close to 1,000 happy clients wanting to buy and sell jewellery and gold pieces.
Run and owned by businessman Cesar Ripanu and expert jeweller Paul Mentessi, the pair also have Gold Rush in the centre of Torrevieja and Quesada. The company works very closely with the Guardia Civil and Gold Rush strictly adheres to all laws and guidelines that are in place when running such a business. When purchasing any items the seller must provide identification and items are photographed and immediately sent to a police database to ensure they are not stolen. "I believe this helps make the neighbourhood safer and the communication we have with the Guardia Civil is perfect" explains Cesar who believes the business is helping boost the local economy helping people get cash when they need it which they then use in other stores and services in the area.
When valuing items Gold Rush operates an honest and professional service and will value the whole item and not just the gold as Cesar explains that other companies will ignore antique and unique pieces of jewellery and their precious stones and simply go on the weight of the gold. "This is criminal in my opinion and we will keep unique pieces for our own shop." For pieces they sell on they first get sent to the workshop where they are cleaned and any cubic zirconia replaced with real diamonds so even second hand items are like brand new. "We also work as closely to trading prices as possible so there is not a large mark up meaning buyers are getting great pieces at great value." They now also work with the Geological Institute in America (GIA) on diamond certification and valuing. Paul says: "We are actually buying better than anywhere in the UK at the moment for diamonds."
Gold Rush do not have a high mark up and prefer to give a value for money service and a quick turn around on stock. To back this up, they are proud to offer a buy back service where customers can return the item they bought weeks or months later.
Jewellery repairs are also on hand through Paul's expertise and knowledge as a jeweller. He can also create bespoke one of pieces to a customer's own design. Gold Rush is also proud to announce they can offer the latest technology in 3D manufacturing of jewellery allowing customers to again design their own pieces which are then 'printed' in Germany.
So for all gold and jewellery and cash services, visit Gold Rush situated within the Alcampo supermarket gallery, Zenia Boulevard. The store is open Monday to Sunday from 10am to 10pm . Call 966 793 952. The Torrevieja store, just 100m from the main church on Calle Caballero de Rodas 25, can be contacted on 965 067 936, or call Quesada on 966 716 620.