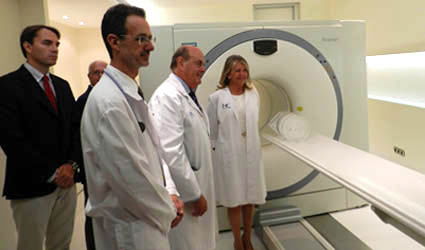 HC Marbella International Hospital has expanded its existing Radiodiagnostic Unit with the incorporation of a PET/CT camera.
This cutting-edge technology device, said to improve the locating of a primary tumour by 50 per cent, was unveiled at an event held at the hospital premises.
The event was attended by HC Marbella International Hospital director Luis Torrabadella, Oncology chief Hernan Cortes-Funes, Marbella mayor Angeles Muñoz as well as oncology and radiology professionals from all over the region.
The PET/CT –Computerised Axial Tomography by Positron Emissions- is a technology that combines two different image techniques in order to get a complete vision of a tumour.
Only six of these cameras are available in Andalucia, three of them being in Malaga.
"This is proof of how this hospital has evolved in recent years," said director Luis Torrabadella.
Oncology chief Hernan Cortes-Funes explained this camera is used to detect tumours, whether benign or malignant, and their exact location.
"It can even detect tumours as small as six millimetres," he said.
Cortes-Funes, who is also Oncology chief at the prestigious 12 de Octubre Hospital in Madrid, added the PET/TC camera can be used to diagnose other illnesses including Parkinson's and Alzheimer's.
The process lasts approximately 20 minutes and starts with an injection of a radioactive tracer combined with glucose that acts as a light bulb emitting the radiation that indicates where the lesions are.
This means greater comfort for the patient and a benefit for the specialist, who can obtain an easier to interpret anatomic-functional image within minutes.
HC Marbella International Hospital is currently carrying out different diagnosis techniques to provide personalised treatments to patients in cooperation with the 12 de Octubre Hospital in Madrid.
In addition, it has established partnerships with several research centres from Europe and the US, including the Target-Now from Claris Life Science and CancerType from Genomic Health.
Marbella mayor Angeles Muñoz, who was wearing a white coat in remembrance of her days as a doctor during the event, praised the doctors working at the HC Marbella International Hospital.
"We've got excellent doctors and professionals working in Marbella," she said.