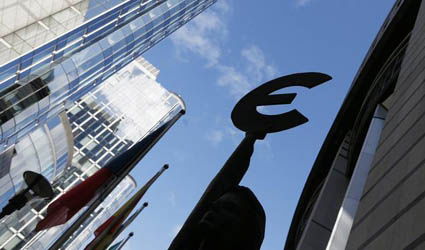 BRUSSELS (Reuters) – Optimism about the euro zone's economy brightened for the fifth month running and hit a 2-year high in September, adding to evidence that a recovery is underway.
The European Commission said on Friday the 17-nation bloc's morale rose faster than expected to 96.9 from 95.3 in August, the best reading since August 2011.
The 9.5-trillion euro economy returned to a modest growth in second quarter of this year with a 0.3 percent rise, driven by a stronger-than-expected expansion in Germany and France.
Euro zone leaders, struggling to bring down record unemployment, are looking for growth to continue into 2014.
"It's the first time in quite a while that we have seen such a broad improvement," said Frederik Ducrozet, a senior euro zone economist at Credit Agricole. "There is a rebalancing in the sources of growth, which in the initial phase was driven by manufacturing," he added.
In a promising sign, confidence was also up in the wider European Union, rising by 2.4 points to 100.6 points and taking the Commission's measure of morale above its long-term average for the first time since July 2011.
For the euro zone, the positive trend was particularly clear in three out of the bloc's five largest economies, with Spain and Italy rising by 2.5 points and France up by 1.6 points.
The European Central Bank said earlier this month that recent confidence indicators confirmed expectations of gradual improvement in the economy, which is expected to gain a more solid footing next year.
Sentiment in Germany, Europe's biggest economy, was broadly unchanged.
Across the bloc, employment plans were revised upwards in industry, services, retail trade and construction, the European Commission said.
Separately, the euro zone's business climate – which points to the phase of the business cycle – was broadly unchanged after inching up to -0.20 points from -0.22 in August.
The EU's executive arm said a significantly more negative assessment of past production had prevented an even stronger improvement.
In the bloc's larger economies, only the mood in the Netherlands worsened, by 0.9 points, as the country struggles with the fallout of a housing bubble.
Still, the euro zone's recovery from recession is likely to be modest as governments continue to reduce spending to try to bring their budgets in check, following the runaway boom years of the euro that sowed the since of bloc's debt crisis.
"This is another sign that the euro zone has continued to grow, but far too slowly to address the region's unemployment and debt problems," said Jonathan Loynes, chief European economist at Capital Economics.