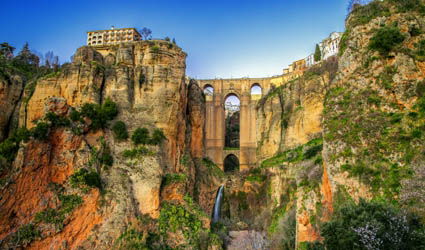 WE will based in a very comfortable, clean hotel which sits on the edge of the little known town of Puente Genil which originally derived its name from the wooden bridge (puente meaning bridge) which offered entrance to what was then a small village.
Nowadays Puente Genil, despite its present day population of a little more than 30,000 people, still has a rather pleasant village feel about it.
In the very heart of Spain's largest region, Andalucia, it is ideally situated to allow us to visit some of the other treasures of Andalucia.
This excursion includes outings to Malaga, Ronda and Antequera. In the latter, the town surrounds its castle which sits proudly on a hill where it has overlooked the town since Moorish times. A feeling of activity fills the main street and yet it is not hard to imagine the Christian conquerers sweeping up through the town gates to take it from bearded, turbaned Moors.
In the nearby mountain range we will visit a unique area of miles and miles of strangely shaped rocks, formed by the ice age and now providing shelter for a wide range of wildlife including buzzards, eagles, hawks, deer and mountain goats.
Another day sees us in the mountains above Costa del Sol at the impressive mountain town of Ronda. This unique town is split in two by a stunning gorge from which there are the most memorable views of the valley.
One side of the town is very old and offers buildings which have survived over several centuries. The other half is a little more modern and centres round the bullring.
A small town square centred round a church and a fountain leads out along narrow cafe lined streets which offer shade to relax in, or to wine and dine in. This magic town has a magnificent feel of historic times.
Not finished yet, we still have Malaga to see. A city which nowadays is mainly associated with its nearby airport which gulps in millions of sun seeking tourists every year, but which has a history to match that of any other Spanish town. Its position on the south coast attracted many cultures.
The Phoenicians, Romans, Visigoths, Carthaginians, the collection of tribes known as the Moors and of course the Christians led by the Catholic monarchs all settled here. Many of them left behind evidence of their time in Malaga. A Roman amphitheatre, a Moorish palace and a magnificent cathedral amongst many more examples.
The City of Malaga is second only to Sevilla in Andalucia and still revolves round these historical markers of its colourful past. Also born here was the famous artist Pablo Picasso. His house can still be visited
We think that Malaga will both surprise and delight you with its diversity.
This exciting new excursion which takes you to the very heart of the Spanish culture is now on sale for only 199€, half board including wine and water.
A one-off date for this year four days October 15-18 is being offered by Davids Coachtrips SL.
Picking up at San Pedro, Los Alcazares , Balsicas, Valle de Sol, Totana, Puerto Lumbreras.
Reservations can be made at www.coachtripsonline.com or by calling them direct on
(0034) 966 785 910.