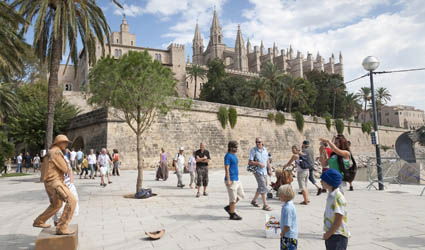 THE Balearic Islands is the one of the top regions for attracting foreign tourists. In the first eight months of this year, only Cataluña had more.
In total, 8.3 million foreign tourists have visited the islands between January and August, which is 8.3 per cent more than over the same period last year, and accounts for 19.7 per cent of the total in Spain.
According to data from the Ministry of Industry, Energy and Tourism, in August alone, 2.06 million tourists visited the Balearic Islands, 10.6 per cent more than the same month last year, boosted mainly by the German market, which accounted for 24.9 per cent of the visitors.
Meanwhile, hotels in Magaluf and Palmanova, which receive the most foreign tourists, have created a blacklist of visitors who are no longer welcome because of the problems they have caused.