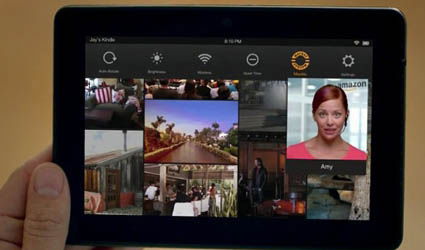 SEATTLE (Reuters) – Amazon.com Inc has begun selling faster and lighter versions of its Kindle tablet with a unique video helpdesk feature aimed at giving it a leg-up over Apple Inc and Google Inc during the holiday season.
Kindle Fire HDX tablets feature a so-called Mayday Button for users to call technical support around the clock. A representative, who can see the screen, will help troubleshoot by even navigating the device remotely.
The service, free for HDX customers, is Amazon's way of standing out in an increasingly crowded field of similar devices.
Amazon is the world's largest online retailer and has a growing library of digital content. Consumers pay far less for Kindles than Apple's iPad and Android tablets from Samsung Electronics. But those gadgets have far more applications, which many industry experts consider the most vital factor behind purchase decisions.
Amazon is targeting a maximum 15-second response time for Mayday but would not say exactly how many support staff were behind the service.
Amazon is training reps by the thousands and will hire more if needed, Chief Executive Jeff Bezos said. "We'll be ready for Christmas morning, which is always a very big tech support day for us."
It is unclear how the up-close-and-personal support feature will affect the underlying cost of supporting the Kindle. Amazon already runs one of the Internet retail industry's largest customer service centers, handling everything from shipping inquiries to purchasing and payments assistance.
Even if the new feature does end up incurring extra costs, Amazon is banking that customers will ultimately use Kindles more to purchase higher profit-margin products and services.
"We actually think it's going to make us more efficient," Bezos said, noting that letting support personnel see users' screens will make many issues easier to solve.
Amazon sells Kindle devices at close to cost and then profits off the sale of digital content such as video and music, or physical goods like books from its website. That strategy has helped to quickly establish the Kindle as a top-selling tablet, behind Apple's iPad and Samsung's Galaxy range.
Since Amazon took the plunge into the then-nascent tablet market with the Kindle Fire in 2011, the devices have proven to be effective vending machines for purchases.
"The third-generation of Kindle tablets mark another meaningful step forward, and increasingly differentiate Kindle Fire from the increasingly crowded tablet market," Robert W Baird analyst Colin Sebastian said on Wednesday.
"However, our biggest push-back on Kindle is the lack of a compelling app store or library of apps, compared to what is available from Apple or Google," said Sebastian.
Apple users have about 375,000 dedicated tablet apps to choose from, far more than those for Android and Kindle tablet users.
BY THE NUMBERS
The latest Kindles, which run the newest version of Amazon's own Google Android-based operating software codenamed Mojito, will go up against steep competition this coming holidays. Samsung began selling its Note 3 "phablet" – a cross between a tablet and a phone – on Wednesday.
On the smartphone front, the iPhone 5S and 5C have racked up record sales and will be strong contenders for consumers' wallets.
Apple is expected to take the wraps off its own beefed-up iPads in coming months, hoping to sustain its dominance of a tablet market it helped create with the first device in 2010.
Amazon shares closed down 0.5 percent at $312.65 on Nasdaq.
The new tablets, one with a 7-inch (18cm) screen and one with an 8.9-inch screen, are lighter and more powerful than the last Kindle HD line and appear to be aimed at Apple's iPad. Amazon's new HDX tablets come in 16GB, 32GB and 64GB storage sizes.
The smaller Kindle Fire HDX tablet starts at $229 and the bigger tablet starts at $379, both for 16GB wifi-only models. By comparison, Apple's 16GB wifi iPad mini starts at $329, and its 16GB full-sized wifi iPad starts at $499.
Amazon is taking pre-orders immediately for wifi-only models, with shipping scheduled for October for the 7-inch tablet and November for the 8.9-inch tablet. Wireless 4G versions of both will also be available, for $100 extra, later this year.
In addition, Amazon is selling an updated version of its Kindle Fire HD for $139, down from $199 for the last generation.
The company is also modifying some of the Kindle's software capabilities to try to appeal to a broader range of customers.
To promote profitable cross-selling, Amazon has extended its popular 'X-Ray' feature, which allows users to buy music featured in TV shows and films at the touch of a button.
It is also allowing subscribers to download videos to watch while offline, appealing to travelers and pure wifi users.
"It's the software and services that will keep users happy. The Mayday customer service feature is unique to Amazon, and will be a huge help to mainstream users of the device. Your mom won't have to call you for tech support anymore," said Forrester Research analyst Sarah Rotman Epps.
"And, it must be said, Amazon is unassailable when it comes to price," said Epps.