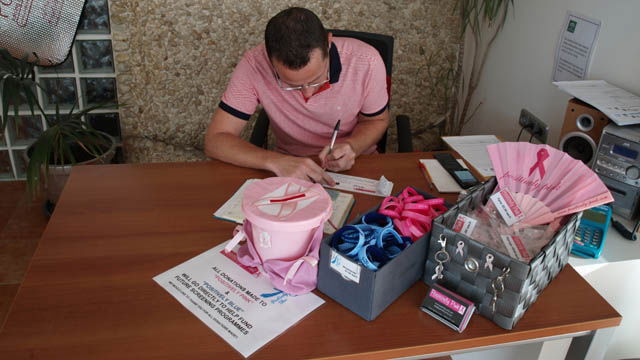 By Sophie Elliott
WITH cancer touching the lives of one in three people, and the biggest killer of women being breast cancer it is vitally important to catch it early.
That gives women their best chance of overcoming the disease.
That is where Clinica Medicare come in. In conjunction with Positively Pink they run a  free six month detection programme running from June to December.
It offers free state-of-the-art breast imaging for women of all ages, be it an ultrasound, mammogram or both, supported by a clinical examination with a suitably trained doctor or nurse.
Clinic director David Donaldson explained what the screening process involves,
"When women come to us you have to remember that nine out of 10 of all breast cancers are found by the lady themselves, so firstly we do a physical examination.
"We then look at their medical and family history; things like menstrual cycles, whether they've had children, if so if they breast fed, if they have had any work done on the breast in terms of implants or breast reduction and any family history of cancer.
"All of these are the deciding factors as to whether we send them for an ultrasound or mammogram or both. They are then issued with a voucher and we set up an appointment for them at Clinica Radiology in Fuengirola.
"We collect the results every Friday and translate them into English so that by Monday the ladies can come back and collect their films and results in English and in Spanish."
He added: "Then if we get a positive result or anything comes back on the screening that we think they're going to be concerned about, we make them an appointment to come back and see either Dr Deardon or Bridget the nurse and we discuss the results with them. Sometimes they may get a request to be re-screened in three to six months and obviously that can be really scary.
"We support them through that process and make sure they go for their follow-up appointment. Even if it's outside of our screening programme we will make sure they get the support they need. If the result is a positive one we discuss all of the options, whether they want to use the social system in Spain for treatment or want to do it privately.
"We make sure Dr Deardon sees them personally to discuss the likely outcome of the results of the mammogram or ultrasound. We go through the results of the biopsies with them and discuss surgical options and then support them through as much of that as they need us to, every step of the way."