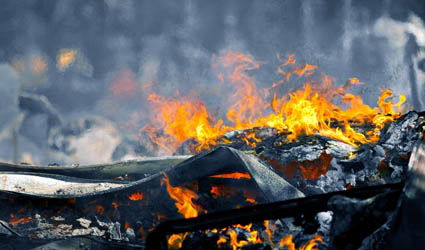 A FIRE led to around 100 British tourists being evacuated from the Mallorca Rocks Hotel during the night on Sunday.
At 9pm members of staff at the Hotel began to sound the alarm that there was a fire within the hotel.  Local Calvia Police, Guardia Civil and firefighters promptly arrived at the scene to evacuate two of the hotel blocks filled with British tourists as a precautionary measure.
The fire was said to have started in room 908 occupied by two young British tourists when two suitcases full of clothing placed on the bed caught light, the cause of the fire is currently unknown. The occupants of the room were unharmed.
One of the hotel maintenance technicians who had attempted to put the fire out was taken to the Santa Ponça Hospital after suffering from smoke inhalation.
Guests were successfully evacuated to the communal areas and courtyards of the hotel and the fire was brought under control.
The Palmanova Guardia Civil will now begin to mount an investigation as to how the fire started.