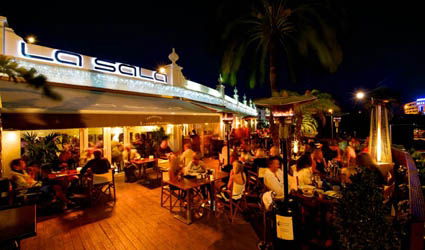 WHEN you think of the best events and venues on the coast there are three star-studded names that spring to mind – La Sala, Sala Beach and Aqwa Mist.
All three have the same mix of ingredients that make them such a success, but with their own unique and individual style.
Sala Group is the mother-ship for these three names, renowned for their vibrant mixture of celebrity guests and entertainment, vivacious ambiance and exquisite food, all at incredible value for money. They have all cemented their status as "the places to be" on the Costa del Sol. But that's not all the Group has to offer with two more venues in the stable.
El Rincon de La Sala takes the vibe of the other venues and gives it a Spanish twist, and La Terraza is the perfect place to relax in the open air.
Each individual brand has its own unique and diverse style, yet the common thread uniting Sala Group is an emphasis on stylish surroundings, excellent quality, superior service, and genuine value.
La Sala
La Sala Restaurant in Puerto Banus offers the 'ultimate social dining experience'. It combines fine dining with entertainment to allow customers to enjoy a great social life with friends and partners all year round.
This, combined with La Sala's, prime location and stylish décor has attracted celebrity figures from around the globe.
Sala Beach
SalaBeach, with its stunning sea views, is the perfect setting for a cocktail and lunch with friends during the week. Come the weekend, its electric party vibe invites personalities from the world of sports, television and entertainment. SalaBeach's legendary LoveJuice pool parties attract thousands of people every year, and have been voted among the best pool parties in the world.
Aqwa Mist
Located under the bustling La Sala, its sister 'superclub' Aqwa Mist takes opulence to a whole new level. The high capacity nightclub regularly welcomes artists such as Brit Award winner, rapper TinieTempah, American singer Ne-yo and drum and base sensation Rudimental. Boasting an unrivalled sound system, a 30ft waterfall and Marbella's only Super VIP Room complete with private bar, dedicated waiter and a rock pool Jacuzzi, a night in Aqwa Mist is unforgettable!
El Rincon de La Sala
El Rincon de La Sala offers the same vibe as the efficacious La Sala in Puerto Banus but with the added twist of Spanish tradition and flavour. Situated on the main street in San Pedro de Alcantara it's ideal for an excellent meal after an afternoon stroll along the San Pedro promenade.
La Terraza
The most recent addition to Sala Group's ever-growing portfolio, La Terraza is situated next to superclub 'Aqwa Mist.' Illuminated with seductive, contemporary lighting and embellished with stunning greenery and Belvedere's iconic tree imagery, this sophisticated haven offers a completely new Puerto Banus experience. The innovative, elegant and cosmopolitan drinking terrace is open from midnight every day and has an alternative intimate, outdoor atmosphere, making it the perfect place to socialise prior to partying into the early hours at Aqwa Mist.