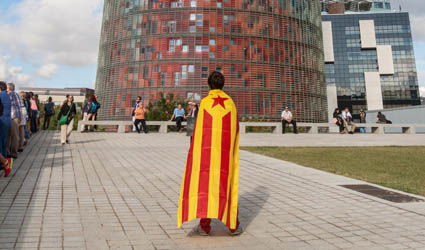 SPANISH opposition to Catalan independence is usually more visceral than cerebral. It whiffs of "if you aren't with us you are against." 
Neither Mariano Rajoy nor any other president will make progress until Madrid stops trying to turn Catalans into Spaniards. 
They are Spanish insofar as a Scot is British. Even those not pushing for independence are Catalans first.
In Madrid the constitutional legality of an "in" or "out" vote is overshadowed by fears of massive support for independence.
This is no foregone conclusion. 
Pia Ahrenkilde, European Commission spokeswoman, recently challenged pro-independence claims that secession would not entail EU exclusion. 
If a country declares independence it automatically stops belonging to the EU, she said.
She was echoed by EU vice-president and Competition Commissioner, Joaquin Almunia. Leaving the EU would entail lost funds, no single market, passports and years of application formalities, Almunia warned.
Independence is fine-sounding but comes at a price that Catalans, supreme business people, might not find cost-effective.
Cooking something up
ROSALIA IGLESIAS is threatening to talk.
She is the wife of the PP party's remanded ex-treasurer, Luis Barcenas.
In the background until now, her silence stemmed not from ignorance of events but discretion. She was, after all, present when Rajoy and Arenas paid off her husband after his forced resignation.
"If they want war, they'll have it," she said recently, without needing to define who "they" are.
"If we have done anything, we'll pay for what we have done, but not for what others have done."
Her husband opened a can worms. Is Rosalia Iglesias preparing to add to the mess with a cascade of spilled beans? 
Shooting the messenger
ANA BOTELLA, mayor of Madrid, inherited the 2020 Olympics bid from her predecessor, Alberto Ruiz-Gallardon, now Minister of Justice.  Allegedly she was never convinced by the project but took it on.
To her credit she did her best and to her further credit made a chirpy, bright-eyed little speech in English as she put forward Madrid's claim.
Scorn and ridicule immediately rained on her from all sides at home, although Botella's accented English was superior to that of many of her critics.
The criticism is further proof – as though it were needed – that politics in Spain focus on demolishing the individual, not the message. 
Heavy-handed handiwork
BULLET holes have been visible in the ceiling of the Madrid parliament chamber since February 1981.
They remain there as a reminder of the attempted coup d'état, protected by every government since then. Until now. 
Those over the press box disappeared during renovations and redecoration and unblocking them will be impossible, workmen said.
A pathetic attempt at obliterating the past?  More likely a prime example of la chapuza.  This is the classic repair or maintenance job that either collapses, explodes or implodes shortly afterwards, or lasts for centuries.  The filled bullet holes most likely belong to the last category.