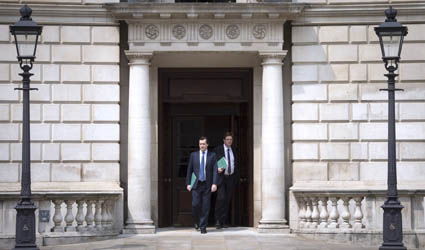 LONDON (Reuters) – Britain is mounting a legal challenge against the European Union's cap on bankers' bonuses, a source said on Wednesday.
The UK Treasury has lodged a legal complaint over the cap which will take effect on bonuses awarded for 2014 and onwards. The majority of bankers that will be hit are based in London.
The cap limits a bonus to no more than a banker's fixed salary, or twice that level with shareholder approval.
Britain, the bloc's biggest financial centre, was outvoted on the cap and critics warn that banks will simply bump up fixed salaries, a step some lenders are already taking.
It is the latest sign of how Britain – on course to hold a referendum on its EU membership in 2017 – is resorting to legal action in the bloc's top court, the European Court of Justice, to reverse rules it disagrees with.
Last week an adviser to the ECJ backed Britain in saying that a Paris-based EU markets watchdog should not have the power to impose bans on short-selling of shares on a member state.
The UK is also challenging a plan to introduce a tax on financial transactions in some EU states, but not Britain, because it would impact London markets.
A UK legal challenge has also been lodged with the top court against a European Central Bank policy of requiring clearing houses that handle large amounts of euro denominated securities to be based in the single currency area.