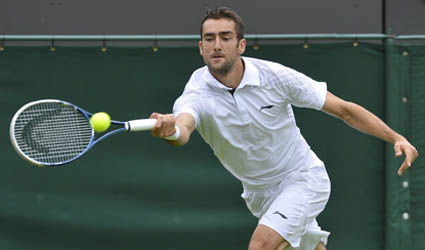 (Reuters) – Marin Cilic cited a knee injury at Wimbledon this year to hide the fact he had failed a dope test, the International Tennis Federation (ITF) has revealed after handing the Croatian a nine-month suspension.
The former world number nine, banned last week after testing positive for the banned stimulant nikethamide, has said he never knowingly took any banned substance and plans to appeal to the Court of Arbitration for Sport.
The ITF, in a full decision of its independent anti-doping tribunal published on its website (www.itftennis.com), said the player was charged with a doping offence in a letter dated June 10 after a positive result in Munich on May 1.
Cilic received the letter on June 11 in London before his first match at the Queen's Club pre-Wimbledon tournament.
The Croat lost the final at Queen's to Andy Murray and, after instructing lawyers, played and won his first-round match at Wimbledon on June 24.
"On 26 June his lawyers in Brussels responded on his behalf, voluntarily accepting a provisional suspension until a decision in the case, and waiving his right to analysis of the B sample," the ITF decision said.
"He withdrew from Wimbledon, citing a knee injury to avoid adverse publicity."
Cilic was quoted at the time as saying it was "a very black day" and the 10th seed's reported injury was one of a spate of withdrawals on the third day that focused attention on the state of the grass courts.