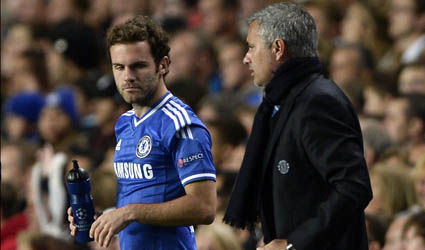 LONDON (Reuters) – Chelsea manager Jose Mourinho has hinted that fan favourite Juan Mata must improve his defensive work in order to win a regular place in the team.
Spain midfielder Mata was voted the club's player of the year for the last two campaigns but has barely featured since Mourinho returned in the close season for a second stint in charge at Stamford Bridge.
"The reasons why, at this moment, he's not playing so much are things I can speak about with him but not publicly," the Portuguese told British newspapers as he prepared for Saturday's visit of West London neighbours Fulham.
"He played against Everton from the start (last week) and you can analyse his performance. And he came on against Basel (in midweek) when the team were winning 1-0 … with specific tasks to do.
"It is one thing to play with Ramires and Oscar closing down opponents on each side and Mata as a number 10 behind a striker with his clever assists, clever passes and fantastic actions because he has great talent," said Mourinho.
"But it is another thing to adapt to the way we want to play."
Chelsea were beaten 1-0 by Everton in the Premier League last weekend and then slumped to a surprise 2-1 home defeat by Swiss club Basel in their opening Champions League Group E match on Wednesday.
Mata was the club's chief midfield orchestrator last season but Mourinho seems to prefer Brazilian international Oscar as his main playmaker.
"I want to build with Oscar as my number 10," said the former Real Madrid, Inter Milan and Porto manager. "I want the other players…to adapt to that reality and learn how to do things they were not ready to do before.
"If anyone tells me Oscar has not been Chelsea's best player this season I'd have to disagree. I have to prove to the fans that I am good. Now must do the same."