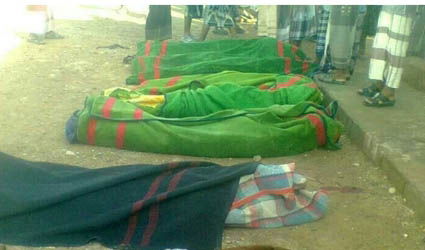 ADEN (Reuters) – Suspected al Qaeda militants killed at least 31 Yemeni soldiers and policemen in attacks in the south of the country on Friday, their deadliest for more than a year, security officials said.
Twenty-one soldiers died when two car bombs exploded at a military camp in al-Nashama, near the coast, Yemen's Supreme Military Council said, and 10 police were killed by gunmen in the inland town of Mayfaa.
A car bomb exploded near the country's only liquefied natural gas export terminal at the coastal town of Balhaf, killing people inside the vehicle but not causing any other damage, sources added.
Officials believe members of al Qaeda in the Arabian Peninsula (AQAP) were behind the attacks, the security officials said. AQAP is seen by Western countries as one of the most dangerous branches of al Qaeda because it has attempted to carry out bombings on international airlines.
U.S. drone strikes have killed scores of AQAP members and the Yemeni army has seized back large tracts of territory from the insurgents, prompting the country's foreign minister to call Friday's attacks a sign of increasing desperation.
"This attack was intended to demonstrate that they are still there. But it's also a demonstration that they are losing the war against the security and stability of Yemen," the minister, Abu Bakr al-Qirbi, told Reuters.
Ali al-Sarary, an aide to Yemen's prime minister, said the attacks were aimed at thwarting the reconciliation efforts of a "national dialogue" set up between rival factions after a popular uprising in 2011.
"The main goal is to foil a political settlement and prevent the national dialogue from reaching solutions on a number of issues, particularly issues in the south," he said.
Maintaining stability in impoverished Yemen is a priority for Washington and Gulf states because of its location next to major oil shipping routes and Saudi Arabia, the world's top oil exporter.
CAR BOMBS
Friday's attacks were the deadliest against Yemen's military since May 2012, when a suicide bomber in army uniform killed more than 90 soldiers at a parade in the capital Sanaa.
A concealed bomb in one car exploded among a group of soldiers at the gate of the al-Nashama camp as the driver tried to enter. The other was already inside the camp when it exploded, one of the security sources said.
Sources earlier told Reuters around 30 soldiers had died.
In Mayfaa, gunmen opened fire at a security headquarters, killing around 10 policemen, before escaping in stolen vehicles, local residents said.
All the attacks took place in Yemen's southern Shabwa Province, a lawless area where Islamist militants and the security forces have clashed in recent years.
AQAP emerged as one of al Qaeda's most aggressive international affiliates, and a direct threat to the United States, when it claimed responsibility for an attempt by a Nigerian man, Umar Farouk Abdulmutallab, to down a Detroit-bound airliner on December 25, 2009 with a bomb concealed in his underwear.
It said it was also behind a foiled plot to send two air freight packages containing bombs to the United States in October 2010.
Intelligence pointing to a major impending attack by AQAP prompted the United States and other Western countries to close many of their embassies temporarily in the Middle East, Africaand Asia early last month.
The militants took advantage of political chaos in Yemen during the Arab Spring in 2011 to seize control of some towns and surrounding areas in the south of the country.
They were beaten back by Yemeni forces with assistance from the United States last year, and scattered into small groups spread across the country's rugged, remote southern terrain.
They have staged a series of attacks against government and military targets using a suicide, car bombs, drive-by shootings and other tactics.
Yemen is also facing a growing secessionist movement in the south and a rebellion by the Houthis, a group of Zaydi Shi'ite Muslims, in the north.