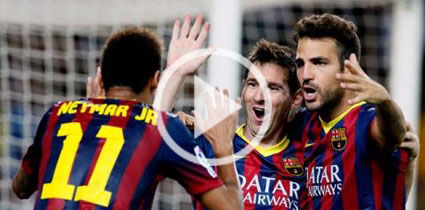 Lionel Messi scored his 60th, 61st and 62nd career goals in his 80th Champions League match to help Barcelona make a winning start to its European campaign with a 4-0 victory over Ajax on Wednesday.
Messi opened the scoring at Camp Nou Stadium in the 22nd minute after he was fouled on the edge of Ajax's area, then stepped up to fire in a perfect-placed free kick.
The Argentina forward doubled the hosts' advantage in the 55th by hitting on the break when Ajax was caught looking for the equalizer.
Neymar, in his European debut, set up Gerard Pique to add Barcelona's third goal in the 69th before Messi got his hat trick in the 75th.
Messi's treble leaves him nine goals short of Raul Gonzalez's all-time record of 71.