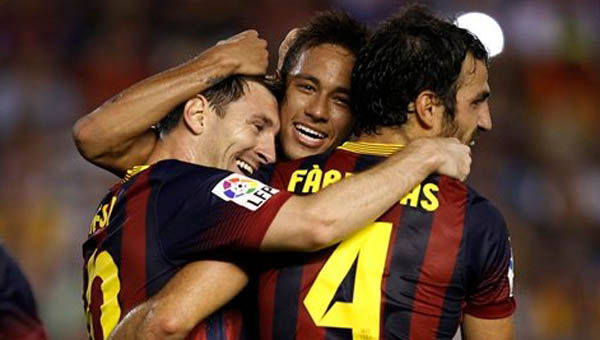 BARCELONA, Spain (AP) — From the early 1970s, Barcelona and Ajax have shared a special relationship.
On Wednesday, the two storied clubs will share the same field for the first time when they meet in Group H of the Champions League.
"The clubs share a nice history," said Johan Cruyff, who left Ajax after winning three straight European Cups from 1971-73 and moved to Barcelona.
The Dutch great went on to coach Barcelona to its first European Cup title in 1992.
This year, it's Gerardo Martino leading a team that boasts Lionel Messi and Neymar. But even with them, the Argentine coach said the team needs to improve its command of the flow of play.
"(The squad) worships ball control, and I must not try and change that," Martino said, adding that the flow was still too unpredictable for him. "When we are stronger collectively, we display more individual brilliance and can close games with more authority."
AC Milan will host Celtic in the other Group H match.
Martino used both Messi and Neymar in attack against Sevilla over the weekend and won 3-2, with the Argentina forward scoring the second goal. But it was the 21-year-old Brazilian who shone.
"Neymar played a perfect match," Martino said.
Against Ajax, Barcelona could have Carles Puyol back. The 35-year-old defender returned to training on Friday after recovering from knee surgery.
With defender Jordi Alba sidelined due to a hamstring injury sustained in the Sevilla match, Puyol could reinforce a back four that has looked fragile at times and provide help for Gerard Pique and Javier Mascherano.
"The team is getting its captain back and we have the center back we wanted," Martino said.
Ajax arrives ater a 2-1 Dutch league win over Zwolle, where coach Frank de Boer brought on forward Bojan Krkic in the second half.
The 23-year-old Krkic, who came up through Barcelona's training school and scored 26 goals in 104 appearances for the first team from 2007-11, said playing against such a great team "should motivate us."