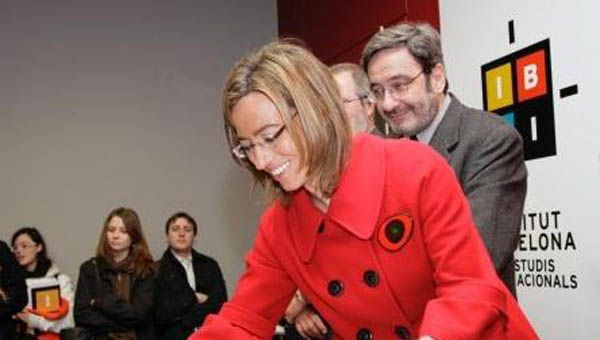 Evasive tactics
CARME CHACON, former Defence minister and contender for the PSOE party leadership, is off to the US for a sabbatical year.
As a Barcelona-based Catalan she can stay out of the separatist issue secretly backed by many PSC members who half-heartedly follow the party line.
Chacon's true feelings regarding Catalan independence are not known, but her ambitions to lead the party and, eventually, Spain are no mystery. So she will return when the dust has settled, and make her leadership move then. Clever fragrant Chacon!
Fickle affections
TWO out of every three people who voted PP in November 2011 would not do so now.
Revelations from the ex-PP treasurer and senator Luis Barcenas have not helped. Neither has the Gurtel political-financial corruption case which Barcenas has unravelled to the point that it entangles the PP still more.
What loses support for the PP is what won them the 2011 elections: the economy. 
Two years ago first-time PP voters believed Mariano Rajoy would salvage the economy.
He has failed, but if there were a noticeable upturn, if unemployment queues shortened, if there were more spending on Health and Education, much would be forgiven and votes won back. 
Rajoy knows this and wants to concentrate on the economy instead of explaining away Barcenas and Gurtel.
Unfortunately there is so much to explain away that the government cannot get on with its real business until it comes clean. Or dirty, as the case might be.
Zen question
TWO computers used by Luis Barcenas at the PP party headquarters in Madrid were handed to investigating judge Pablo Ruz.  One hard drive was missing and the other destroyed.  Remanded Barcenas claims they contained details of irregular funding, a claim the party denies.  So why try to hide something that never existed?
Suits you, sir!
FRANCISCO CAMPS, former president of the Valencian Community was allegedly up to his neck in Gurtel corruption.
The Valencian government supposedly handed out government contracts in return for commissions and Camps was purportedly bribed with made-to-measure suits.
The case reached court but a nine-strong jury, all local residents, acquitted him by a five-to-four majority. 
Camps' name has reappeared in the Noos scandal embroiling the King's son-in-law Iñaki Urdangarin in alleged misuse of public funds.
The Noos case emerged during an earlier political-financial corruption case in Palma de Mallorca and ongoing investigations link both Camps and Valencia city mayor Rita Barbera to Noos. 
Their parliamentary immunity gives them the right to be tried in Valencia by a superior court. As a result the Mallorca Public Prosecutor wants to shift the entire Urdangarin investigation to Valencia's Upper Court of Justice.
This would remove persistent and fearless judge Jose Castro from the case after three years.
It could stem from a desire to see justice done. Or someone, somewhere hopes that a public already gorged on a diet of Gurtel and Barcenas will lose its appetite for the Urdangarin scandal.