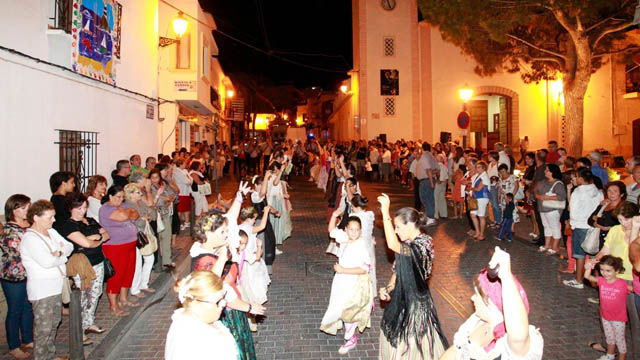 ALFAZ'S Copletes celebration for Our Lady of Sorrows exceeded all expectations.
The Church square was thronged with people on an occasion that Fiestas councillor, Juan Carlos Casiano later described as "the most multitudinous ever."
As always, the couplets were sung under the pine tree outside the church.  Although their origin is undocumented, the Copletes celebrations are one of the oldest fiestas in Alfaz del Pi and, probably, in surrounding towns.   
Traditionally the singers are not required to have good voices although the couplets are now considered difficult to perform.  Once the recital ended there was always dancing for all, followed by mistela to drink and coca to eat.
The Copletes died out in the post-war years but were revived in 1986 with the help of elderly residents who sang them in their youth.
This year the usual narrative poem was read as a prelude to the 49 couplets retelling the sorrows of the Virgin.
The Fiestas queens, after reciting a prayer, then led the dances that preceded the customary wine and cakes in an unchanging centuries-old pattern.