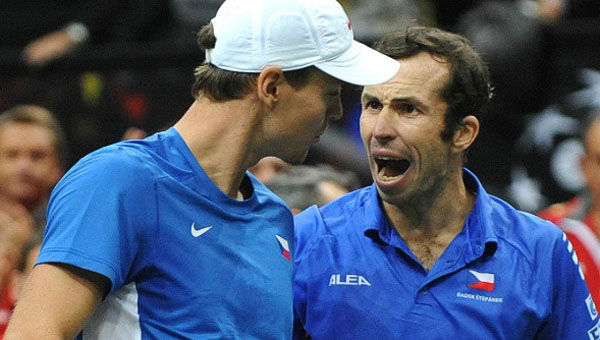 PRAGUE, Czech Republic, Sept. 14 (UPI) — The Czech Republic reached the Davis Cup finals Saturday with a doubles victory over Argentina. 
The Czech team sent the team of Tomas Berdych and Radek Stepanek to the court, and they came away with a 6-3, 6-4, 6-2 series-clinching victory over Carlos Berloq and Horacio Zeballos. 
The Czechs will face either Canada or powerhouse Serbia in November's Davis Cup finals. 
Berdych and Stepanek had given the Czechs a 2-0 lead Friday with singles wins. Rather than rest, they were teamed up Saturday ahead of Lukas Rosol and Jiri Vesely in a move aimed at clinching the best-of-five series without going through Sunday's reverse singles. 
The decision proved to be sound. Berdych and Stepanek broke serve once in each of the first two sets and twice in the third. They also saved break point twice.