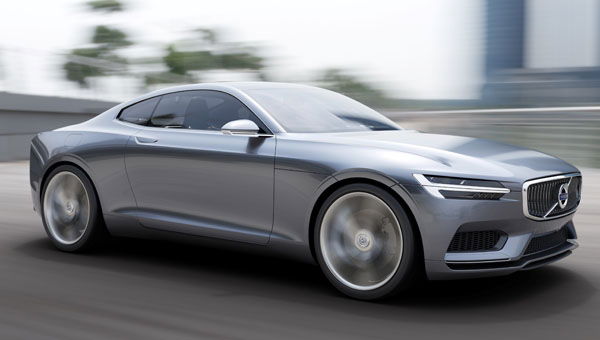 SWEDISH manufacturer Volvo has unveiled the prototype of its new sports car.
The new Volvo Concept Coupe is the first of a series of three concept cars inspired by contemporary Scandinavian lifestyle and design.
 "This concept car reveals how we could shape our cars from now on," said Thomas Ingenlath new Senior Vice President of Design at Volvo about his first design.
The Volvo Concept Coupe features a powerful and efficient petrol plug-in hybrid.
A two-litre high-performance Drive-E petrol engine with a supercharger and turbo is teamed up with an electric motor on the rear axle.
This gives the concept car a total output of around 400 hp and over 600 Nm of torque.
The concept car has been designed to create a powerful visual impact.
The distance between the dashboard and the front axle has been extended to make new proportions which are more' powerful' when viewing the concept car from the side.
A low bonnet, roof, and the five-spoke, 21-inch wheels contribute to create an elegant impression.
The face of the Volvo Concept Coupe is characterised by a new topography on the bonnet and the floating grille.
The concept car also features elements that echo the design of the Volvo P1800 from the 1960's.
"The face is new, but it also carries more than 85 years of Volvo heritage," said Ingenlath. 
The blue-grey exterior of the Volvo Concept Coupe is echoed on the inside with refined, handcrafted elements such as the leather instrument panel or inlays made of naturally aged wood.
The concept car also includes a new approach to Volvo Cars' user experience.
A large portrait touch-screen in the centre console interacts with an adaptive digital display in front of the driver.