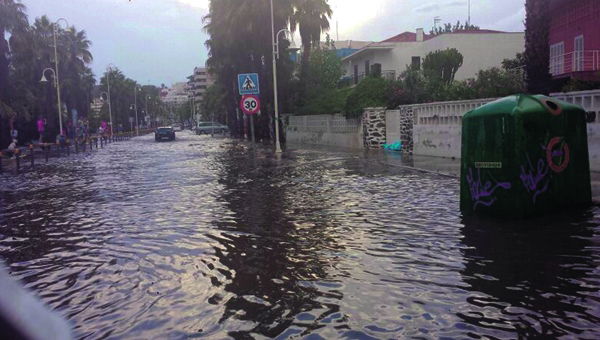 ALMUÑECAR mayor Trinidad Herrera will ask the national government to declare the town a disaster area after severe storms hit.
The decision was made after up to 90 per cent of the sub-tropical fruit harvest in some areas was wiped out by hail and torrential rain.
 "Let's hope the farmers will get some kind of financial aid after this," she said.
Herrera added the town council will offer information about state help and how to apply for it to those affected by floods following the cloudbursts that swept across the Axarquia.
In Almuñecar floods and hail were reported. Two families were evacuated from their homes and crops were damaged.
Around 90 per cent of the sub-tropical fruit production in the Rio Seco, Rio Verde and Rio Jate fields was lost, according to Environmental Councillor Luis Aragon.
The Axarquia was hit by storms which left the streets flooded with 16 litres of rain per m2 in certain areas.
Malaga province was on alert for heavy rains, and as predicted, the skies opened up and dropped 36 litres per m2 in Antequera city centre in just 30 minutes.
Meanwhile, in Alfarnatejo, northern Axarquia, 61 litres fell per m2 flooding streets and shops.