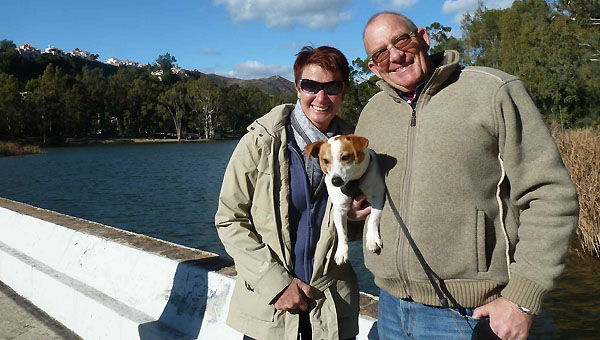 ARE you one of those people who doesn't go in for competitions because you "never win anything" anyway?
Think positive! As we say at EWN 'everyone gets it' and now, everyone gets a chance to win €100 thanks to our super, easy-to-enter competition.
Christine Dunn, Tina Mingou, Heather Rankin and Karen O'Neill also thought they'd never win anything, but they counted up the Telitec logos in their copy of EWN and… surprise… they found their names in print as the lucky winners.
If you can add up then you too could be counting the euros and celebrating like they did.
We have €100 to give away every month in a competition sponsored by leading telecommunications company Telitec.
Winning entries are chosen at random by one of our advertisers.
With 500,000 readers along the Spanish Costas and Mallorca we are the best and most widely read English-language newspaper in Spain.
We give local coverage no other English-language newspaper in Spain can match, and our readers get all this for free, plus the chance to win some cash!
Now that is value for money! What are you waiting for? Start counting! Simply add up all the round 'EWN Everyone Gets It' logos in this week's edition then visit www.euroweeklynews.com to enter.
Here is what some of our previous winners have said:
Chrissy Dunn:

I was excited to learn I had won €100! I like to enter local competitions as the chances of winning are so much better. We decided we would treat ourselves to a lovely dinner at our favourite restaurant in Javea, Sofia's, where we go on special occasions. I also treated my colleagues to
 a cup of coffee at the charity shop where I work, The Original Charity Shop and Library. We keep entering the competition, you never know, as the saying goes "you've got to be in it to win it".
Heather Rankin:
Imagine my surprise when reading the EWN to see my name in print! I had to look again, read it, re-read it, was it really me? It said I had won €100! I have never won anything apart from a couple of numbers coming up on the Euromillions.
I haven't spent the money yet, but plan to treat myself to a few beauty treatments just for me.
I will re enter again this week, it's so easy to do, and look what I got as a reward! €100 is not a life-changing amount, but I'm just so pleased to have won.
Tina Mingou:
I felt very surprised when I read my name in the paper, and had to look twice, but it felt very good.
We had just moved from the Costa del Sol to Arboleas in Almeria, in order to buy property, and that's where the money has gone, you need so much if you move house!