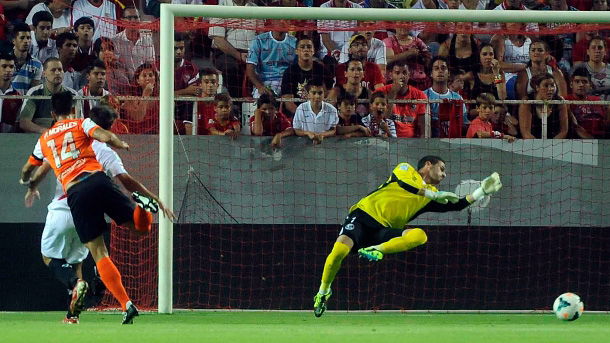 Málaga Club de Fútbol drew 2-2 with Sevilla Fútbol Club in the third BBVA League match of the season at the Ramón Sánchez Pizjuán stadium tonight. Pedro Morales opened the scoring for the Blue and Whites after 39 minutes, followed four minutes later by a Gameiro equaliser. Santa Cruz put Málaga back in the lead in the second half, only for Gameiro to find the goal a second time for the definitive Sevilla equaliser.
Málaga Club de Fútbol was determined to prolong the good run of results at the Sánchez Pizjuán this evening and gain the first points of the season.
Bernd Schuster's men showed impressive game play from the off, as in the first two League games this season.  The Blue and Whites kept the pressure on Sevilla FC in midfield which led to a number of indecisive defence errors that Málaga didn't take advantage of. 
The visitors' first real chance at goal came from Pedro Morales, but was deflected off Varas.  Santa Cruz regained possession and set up a fantastic ball for Fabrice, but he missed the target.  Sevilla's Alberto Moreno on the right wing looked set to open the scoring, but the ball hit the near post following a save by Willy.
 
Pedro Morales scored Málaga CF's first goal of the season, just when a 0-0 draw at half-time looked the probable outcome.  A long shot from in front of the goal was impossible for Javi Varas to stop, and Málaga were 0-1 in the lead.  However the Blue and Whites' joy was short-lived as four minutes later Gameiro netted an equaliser following a pass from M'Bia on the right, putting the score board level at half-time.
 
Portillo joined the team in the second half in place of goal-scorer, Pedro Morales.  Two free kicks from Duda should have put the visitors back in front, but the captain couldn't find the goal.  Sevilla FC failed to create any real danger in the goal area after half-time.
 
Sergi Darder found himself unmarked in front of keeper Javi Varas, but the ball went wide of the goal.  Málaga were determined to regain the lead and their hard work soon paid off.  A creative combinative display from Portillo and Sergi Darder assisted in the team's second goal from Roque Santa Cruz, putting the visitors back in the driving seat.  Again the Blue and Whites weren't celebrating for long as Gameiro scored the Sevilla equaliser, 2-2.
 
The 'Malaguistas' were still creating goal opportunities in the final minutes of play, and a near miss by Portillo could well have sealed their victory.  Referee, Del Cerro Grande awarded Duda a controversial red card following a tackle on a Sevilla counter-attack, leaving Málaga with just 10 men in extra time.
Match stats:
 
Team line-ups:
Sevilla FC: Javi Varas; Coke, Cala, F. Navarro, Alberto Moreno; Rabello (Víctor Machín, 55′), M'Bia, Rakitic (C), Perotti; Gameiro and Bacca (Jairo, 70′).
 
Málaga CF: Willy; J. Gámez, S. Sánchez, Angeleri, Antunes; Tissone, Sergi Darder; Duda, P. Morales (Portillo, 46′), Fabrice (Eliseu, 61′); and Santa Cruz (El Hamdaoui, 77′).
 
Goals
0-1 (39′): Pedro Morales.
1-1 (43′): Gameiro.
1-2 (67′): Santa Cruz.
2-2 (71): Gameiro.
 
Referee
Del Cerro Grande ('Colegio Madrileño').  Yellow cards were awarded to Sevilla's M'Bia (31′), Cala (59′) and Rakitic (74′); and Málaga's Sergi Darder (17′), Sergio Sánchez (28′) and Angeleri (34′).  Duda was given a red card (91').
 
Information
Third BBVA League match of the season, held at the Ramón Sánchez Pizjuán stadium.  Málaga Club de Fútbol's vice president, Moayad Shatat was present at the match, along with Sevilla's president, José María del Nido.