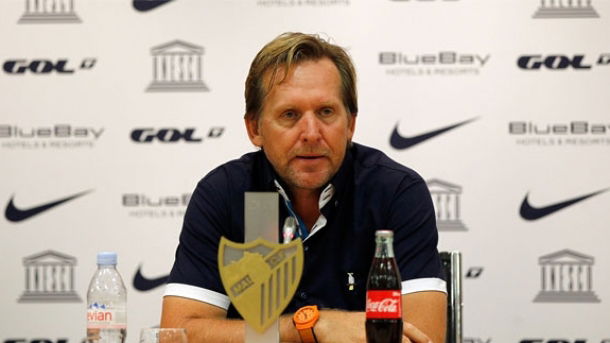 Malaga's German coach Bernd Schuster was left bemoaning his team's luck following a narrow loss at home to Barcelona.
Speaking after the match he said: "I think we found a formula to stay alive throughout the game.  Barcelona didn't play any differently than they usually do; they've been the best team in the world for the past three or four years
"They've got a perfect style of play and fantastic, international players.
"During training for this game our main motivation was to remain alive for the 90 minutes, which we did, but sadly luck wasn't on our side again.  When you have three clear chances to score against Barcelona, you need to net the ball at least once.  It's unfortunate we were unable to score as I think the team really deserved it."
Schuster had fielded a defensive 4-5-1 formation in an effort to flood midfield and break-up Barcelona's possession game. In the end a 43rd minute goal from Adrian was enough for Barcelona to take home all three points from Sunday's game at La Rosaleda.
So that makes it no points from two matches for the blanquiazules, but Schuster maintains that with a litte luck things could have been different.
He said: "I think we deserved a draw in both matches.  However we'll take away the positives from both games and I'm sure we'll be more fortunate in future matches.  We're determined to get even stronger now, and we've all got a winning mentality.  Our focus is now on the next game, and we'll concentrate on making our own luck." What he dis not mention was Malaga's large stroke of luck that Lionel Messi, the World's best footballer, was missing from the team after injury.
And they may well need more luck as next up is a tough away trip for the local 'derby' against Sevilla. That is always a hugely competitively fought match as the teams vie for the top team in Andalucia bragging rights. Kick off is at 9pm on Sunday (September 1).