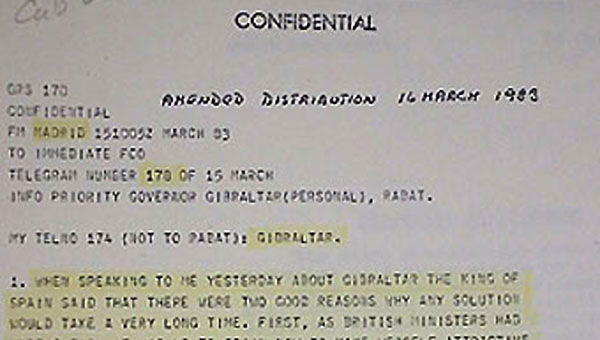 AS conflict between Spain and Gibraltar continues historical documents shed light on similar political discussions which took place in the 1980's.
Confidential documents dating back to 1983 have been released by The National Archives providing an insight into discussions then about Gibraltar between the King of Spain and the British government.
These 30-year-old secret documents were released to the public by the National Archive in Kew, Surrey as a part of the 1983 file release.
In the documents put to Margaret Thatcher, then the British Prime Minister, by the foreign policy advisor Sir Anthony Parsons, he highlight two reasons why King Juan Carlos of Spain believed any solution between Gibraltar and Spain would take a long time to negotiate.
The King is quoted to have said "it was not in fact in the interests of Spain to recover Gibraltar soon, even if it were possible" and highlights that "it is up to Spain now to make herself attractive to the people of Gibraltar, so that they see for themselves the advantages of joining the kingdom of Spain."
Also, on what is described as "a very serious" note, the official government document highlights the fact that the "King of Morocco had repeatedly warned" the King of Spain "that if Spain appeared to be on the verge of recovering The Rock, Morocco would make an immediate bid for Ceuta and Melilla."