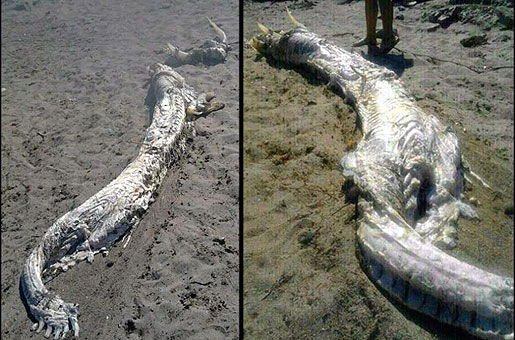 THE remains of a strange creature from the deep have been found on the Luis Siret beach in Villaricos. Bathers were surprised to find the remains of the badly decomposed, unidentified fish between four and five metres in length washed up on the shore.
Members of the civil protection were called in to investigate. After cordoning off the area they called in experts from environmental agencies the Servicio de Proteccion de la Naturaleza (Seprona) and the Asociacion en Defensa de la Fauna Marina (Promar).
Francisco Toledano, a member of Promar, said it was impossible to identify the fish because of the bad state of decomposition. But due to its size initial thoughts are that it might be the rarely seen Oarfish. Some people believe sightings of Oarfish may have given rise to legends of sea serpents.
After taking photos and samples for DNA tests the animal was buried. The creature appears to have been dragged onto a boat as it had rope tangled around its fin. A fish of this size would have been dangerous to a small fishing boat according to some fishermen.
Meanwhile at the weekend another similar sea creature has been found in Terreros (Pulpi) although a lot smaller and in a better state of conservation.