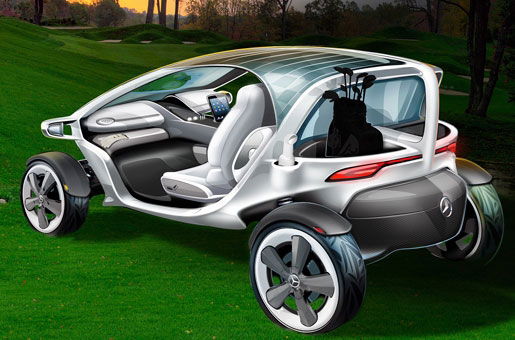 FOR golfers out there Mercedes-Benz has come up with an exciting concept to bring a touch of luxury to the fairways.
Earlier this year, Mercedes-Benz called upon golf and automobile fans from around the world to submit their ideas for a Mercedes-Benz golf cart of the future. 
A jury chaired by Head of Design at Mercedes Gorden Wagener then selected the best entries from among all the submissions. 
Building on the basis provided by these ideas and concepts, the Mercedes-Benz Advanced Design Centre in California developed the Mercedes-Benz Vision Golf Cart.
But don't get too excited, so far it is only a design study. But if the manufacturer does decide to proceed the list of  planned specifications is impressive.
It will be electrically driven, powered by a battery kept continuously charged by a solar module integrated into the roof. 
The vehicle would be controlled via a joystick mounted on the centre console, so making it possible for either passenger to drive the cart.
The centre console would also incorporate a multimedia panel including a rotateable docking station for an iPad or iPhone and a USB interface.
If so required the head-up display integrated into the windscreen could also be used, when the golf cart was stationary, to show the course layout, the current status of the game or weather information.
The Mercedes-Benz Vision Golf Cart would also have a whole range of stowage facilities. As well as the trunk compartment underneath the stowage area for the two golf bags, there would be two dashboard compartments.
In addition to its use on the golf course, the golf cart would also able to run on normal roads, the manufacturer claims, as the design includes all the vital features such as indicators, headlamps and tail lights to make it roadworthy.