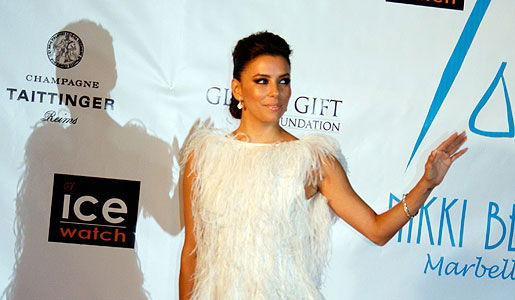 THE Global Gift Gala was held at the Gran Melia Don Pepe Marbella raising more than €416,000 for charity. It saw stars such as Eva Longoria (Desperate Housewives), Shemar Moore (Criminal Minds) and many more supporting and promoting charity.
The event was organised by celebrity philanthropists Maria Bravo and Alina Peralta and saw stars parading on the red carpet in aid of three charities: The Eva Longoria Foundation, the SOS foundation (SOS Dia Universal de la Infancia) and the Human Being Association (Associacion Ser Humano).
Friends to Eva Longoria, PR specialist and TV celebrity Maria Bravo headed the organization of the Gala alongside her fellow philanthropist, business partner and co-owner of MandA Events Alina Peralta.
The three friends stated at the Gala that they pride themselves on their ability to give back and help others.
Of the foundation of which she has created, Eva told EWN that her aim is to help "Latinas in education and entrepreneurship" to get young women to college and then once they've graduated to provide them with the tools and funds to be able set up a small business, should they wish."
The Gala was attended by artists and celebrities helping to raise awareness from around the Globe, such as; Paloma Lago model for various big name companies, such as L'Oreal Paris, Italian model Antonia Dell'Atte, singer Bruce Baps, Lizzie Cundy, formerly married to footballer Jason Cundy, model and TV presenter, Nick Ede, PR guru and TV presenter for shows such as Project Catwalk, German socialite Gulina Von Bismark, and many more.
One guest in particular, another close friend to Eva, actor Shemar Moore, recognised at the Gala for his charitable work with MS (Multiple Sclerosis), enlightened us on his choice of charity;
"My mother's been struggling for 15 years, she suffers from MS. So I ride a bicycle for a 100 miles once a year, I do MS walks and I go to seminars to listen to doctors and become educated, and I'm still learning because MS effects people differently.
"There's no cure, so if I'm able to give back, create awareness and raise money for research in the pursuit to finding a cure, and help my mother, let alone the 250,000 people a year  diagnosed and the millions affected by it, then I can take a lot of pride in that and help people like my mom."
The night also included various performances from attending artists such as; The Lecheritas, the young singers and performers of the popular summer track 'Take me to Marbella', Nate Evans from The Voice, Scottish R&B and soul singer Talia Storm and Spanish singer Sara Pi who specialises in soul and R&B with a Brazilian twist.
The Lecheritas, a trio of nine year-olds looked adorable in floral headbands, and told us they were really looking forward to performing and "never get nervous".
For many celebrities it was their first time visiting Marbella, including former international rugby player for the Glasgow Warriors, Thom Evans, who said he'd "fallen in Love with Marbella".
Food was provided by Michelin starred chef Dani Garcia who walked the red carpet with pride in his chef's whites alongside fellow celebrities such as 1966 Wimbledon Tennis World Champion Manolo Santana, Spanish TV presenter and actress Yvonne Reyes, Miss Angola Stiviandra Oliviera, actor and director Jordi Molla and Manager of the Gran Melia Don Pepe Saad Azzam Faris.
The messaged echoed throughout the event however, was the importance of helping others. Spanish TV presenter Elsa Anka told us that we each "within our limits can give something to those in need, the problem is we relax and forget and one gala event does not mean to say that tomorrow or the next day people stop needing us."
Belgian singer Lara Fabian echoed this by stating that she "feels really blessed" and "that to contribute in one way or another through artistry is fantastic."
{phocagallery view=category|categoryid=27|limitstart=0|limitcount=12}
You can see more photos on: {phocagallery view=categories|imagecategories=0|imagecategoriessize=0|hidecategories=26,21,23,25,22,24,19,20,2,3,5,4,6,9,10,11,12,13,7,8,14,15,16,17,18}
---
By Sophie Elliot