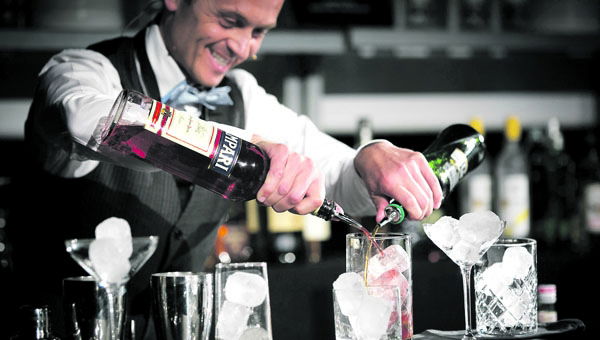 WINNING the Best Barman in the World title clearly involves more than pulling a good pint and mixing a few gin and tonics.
In fact, it meant David Rios proving he is better than more than 15,000 other global title contenders at mixing an assortment of cocktails and facing up to several tough challenges.
The father of twin boys, 37-year-old David – the first Spaniard to hold the coveted title – confesses he gets a lot of attention from the ladies in his profession, but his passion remains family and work.
From Vizcaya, a province in the Basque region, David first started mixing cocktails by chance when the bar where he worked held a party. Since then, he has taught himself most of what he now knows through working as a maitre d' in restaurants and a five-star hotel, and by attending courses.
Preferring simple classic cocktails with a modern touch, David's trademark cocktail is the Basque Gold Punch, which combines Johnnie Walker Label Gold Reserve whisky with pineapple juice, grenadine and soda, with a slice of orange, aniseed and mint.
Winning the 2013 World Class Barman Competition organised by British drinks giant Diageo aboard the Azamara Journey as it cruised to several ports including St Tropez in the South of France and to Ibiza, will mean David travelling a lot more for he will spend the next 12 months on a global tour, honing and teaching his skills to other potential elite bartenders.
It will be a far cry from the Kobuk Cafeteria that David and his brother now own in Barakaldo in the Basque region. For while it has a special area for cocktails, he admits a gin and tonic is about as adventurous as most clients get!