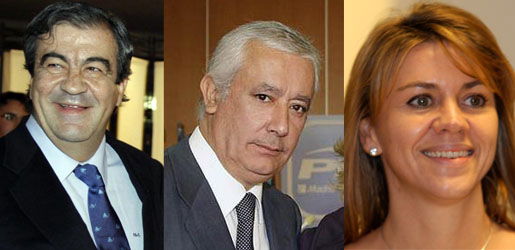 Tunnel vision
POLITICISING every situation is a politician's stock in trade.  So it was business as usual regarding the Santiago de Compostela rail disaster.
If that bend at Angrois were more open the derailment might not have happened or would have been less disastrous.  But eliminating the bend would have required a bigger budget and entailed more compulsory purchases.
That kind of thing loses votes for politicians and losing votes and parliamentary seats exerts an even greater influence than the voters themselves. 
Every regional government wants an AVE and practically everyone has been promised one.  That is much a political decision as Renfe's because no-one wants Spain to lose its second-after-China slot in the high speed stakes.
The accident could compromise Spain's AVE plans and, worse, cloud huge contracts to build high speed links in Brazil and Saudi Arabia, predict Opposition doom-purveyors.
Budgets and votes aside, any train on that stretch of track should be slowing down because it is approaching Santiago de Compostela.
The accident was caused by human error, as Jose Francisco Garzon, the driver of the derailed Alvia, has admitted. 
Making political capital out of Garzon's lapse is moral bankruptcy, pure and simple.
Tangled web
NOW that things cannot get much worse for him, Luis Barcenas is ensuring that they deteriorate for everyone else.
There were no tax deductions on the black Partido Popular money in the brown envelopes that Barcenas doled out.  Or so he told examining judge Pablo Ruz.
This was the unkindest, deepest cut of all and one which the former PP treasurer knows will put the recipients in the worst possible light.
Until the government's money-raising clampdown on fiscal fraud few people in this country could swear hand on heart that they had never settled a bill or received a payment in black money.
But most admit it and many are now paying the price for it.
If the government hopes to eradicate the fiscal fraud that costs this country thousands of millions of euros a year, they have to lead by example.
Possibly Barcenas is lying but politicians have fallen so far in the public's estimation that few would be astounded if he were telling the truth.
Wise move
DISCRETION is the better part of valour and so is prudence. 
Jose Antonio Griñan, who will remain Andalucia's regional president until September, has decided to take the latter to the ultimate degree.
As Mercedes Alaya's investigation into Andalucia's ERE scandal inches closer to Griñan, he moves further away.  He was lauded for his earlier announcement that Andalucia needs new blood but it now seems that his real aim was to avoid a blood-letting.