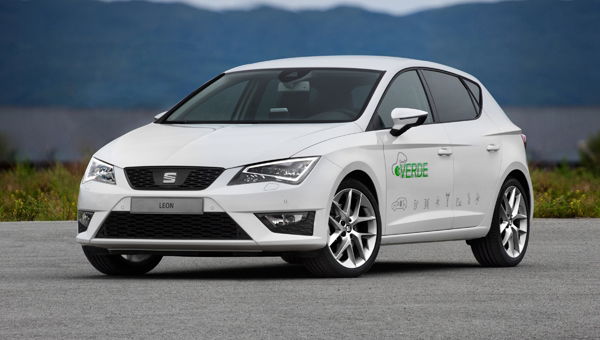 SEAT showcased a brand new plug-in hybrid prototype based on the new Leon at the official closing event of the pioneering Cenit Verde research project.
Called the SEAT Leon Verde, the prototype is the culmination of a four-year research project designed to facilitate the market introduction of an electric vehicle in Spain.
Cenit Verde, which translates as Green Zenith, was headed by SEAT's Technical Centre in Martorell with the support of Spain's Ministry of Economy and Competitiveness. With an overall budget of €34million, it has become a benchmark project in Europe by virtue of being one of the first Public-Private Partnerships, and in recognition of the breadth of its research.
The SEAT Leon Verde is the embodiment of this project. Powered by a 1.4-litre TSI petrol engine with 122 PS linked to a 102 PS electric motor, for a combined maximum output of 170 PS, its electric-only driving range on a full charge is 31 miles. With a full battery and its 40-litre petrol tank full, its total range is 507 miles.
In keeping with its futuristic theme, the Leon Verde is equipped with an advanced Human-Machine Interface (HMI) integrated into a smartphone app. This enables the driver to connect to the car via a wireless network with his or her smartphone to manage functions such as energy consumption or battery status.
The approach undertaken by the Cenit Verde project resulted in an entirely new approach to charging infrastructure as well.
In collaboration with companies including Cobra, Endesa, Iberdrola and Red Eléctrica España, a ground-breaking system of tariff negotiation and smart energy management has been developed, which effectively allows the car to 'interact' with the electricity grid  and so reducing pressure on the grid and, ultimately, saving the user money.
The system detects when overall energy consumption is low on the grid, and incentivises, by way of lower costs, charging during these times. Alternatively, a standard quick charge function is also available.
The SEAT Leon Verde prototype is a research and development vehicle, and the result of the collaborative Cenit Verde research project. There are no plans as yet to put the car into series production.