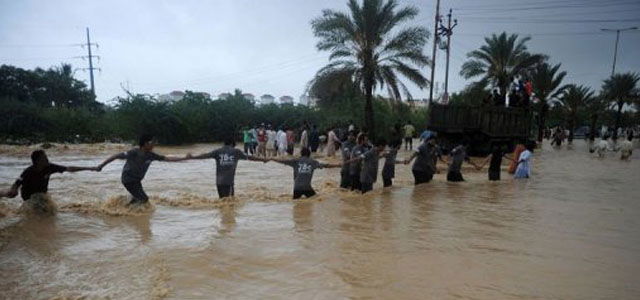 Torrential rain has caused floods in eastern Afghanistan and neighbouring Pakistan killing at least 80 people.
In the Sarobi district alone, officials have claimed that around 34 people have died alone. This is about 65 kilometres east of the Afghan capital of Kabul.
Pakistan's biggest city of Karachi was also badly affected. At least 16 people so far have have been reported to have died as a result of the flooding.
Officials from the Afghan region have stated that emergency teams and supplies have been dispatched to the affected areas. Farmland has been destroyed and hundreds have been evacuated from their homes it is reported. The floods have caused extensive damage in both countries.
The Pakistani army has been helping to clean-up in Karachi as sewage and rainwater had blocked some main roads. The floods have allegedly left many areas of the city without power. Also, in the north-western Khyber Paktunkhwa province, with the torrent, many houses have been swept away officials have stated.
A warning has been issued that there may be more rain coming in the next few days.
This is not the first time the region has suffered floods as a result of the monsoon period.In 2010, Pakistan endured the worst monsoon floods in 80 years where almost 1,800 people were killed and 21 million people affected. In each of the following two years, flooding also left hundreds dead.