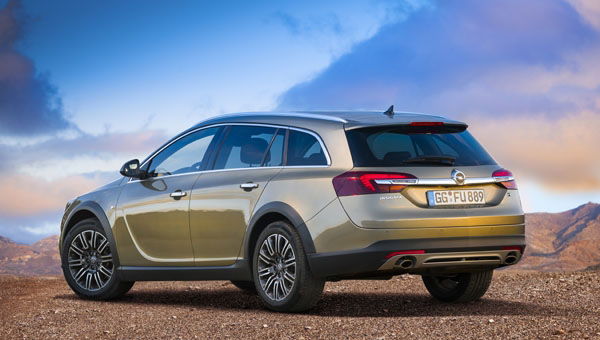 THE new Insignia family will soon be completed when the Opel Insignia Country Tourer makes its world premiere at the Frankfurt Motor Show in September.
The new car expresses an innate desire for adventure, filling this sporty niche in the larger, mid-size class.
The electronically controlled 4×4 drivetrain incorporates a high-quality clutch, operating on Haldex principles, and an electronic limited-slip differential to ensure superb traction on both paved and unpaved surfaces.
 In combination with the electronically controlled FlexRide premium chassis, the all-wheel drive system sets standards in terms of reaction time and vehicle control.
Ultimate stability and higher dynamics are ensured by the electronically-controlled rear-axle Limited Slip Differential (eLSD).
The Insignia Country Tourer can even provide propulsion when three wheels are on loose or slippery ground and only one rear wheel has traction.
To reduce frictional losses and save fuel, the system automatically reverts to front-wheel drive whenever it senses that no adaptive interventions are required.
Strong Opel turbo engine power is a perfect match for the Country Tourer's state-of-the-art 4×4 drivetrain. The choice of three engines is led by a 184 kW/250 hp 2.0 SIDI (Spark Ignition Direct Injection) Turbo gasoline engine, delivering excellent performance. Generating an impressive 400 Nm of torque, this direct injection engine guarantees massive levels of traction.
Off asphalt, the new Insignia Country Tourer also benefits from larger tires and a raised ride height, in addition to its four-wheel drive traction and lively responses.
The purposeful character of the new Insignia Country Tourer clearly signals its strong desire for freedom. With a signature Opel grille, now wider and deeper, the frontal styling has a distinct appeal.
Another characteristic feature is the anthracite-colored protective cladding on the side sills and lower body sections, which gives the Insignia Country Tourer's an assertive, self-confident persona.
Prices and equipment details will be announced on the start date for orders – at the world premiere on September 10 at the IAA in Frankfurt.