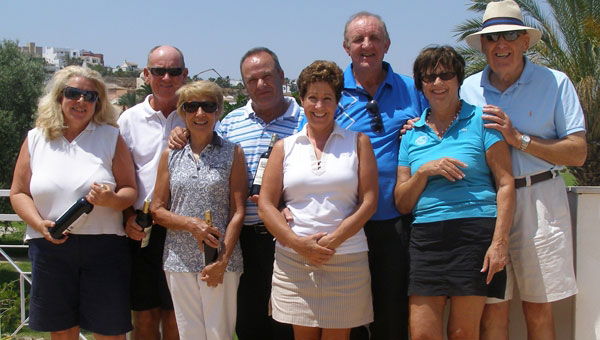 MARINA PHOENIX played an individual stableford with winners in both the ladies and mens divisions showing improved form.
Ann Kavanagh won the ladies' division with 36 points from Maxine Mayhew (34) and Linda King (30). Brian Couper has missed several months through a shoulder injury but got back in the swing with 37 points to beat Frank Varey (36) and Brian Mayhew (34) in the men's division. There were twos prizes for Maxine Mayhew and Brian Couper on the 5th and Ann Kavanagh and Frank Varey on the 17th.
Thursday's team competition was better ball pairs, combined, in fourball teams. The result was extremely close with only three points separating the first four teams.
Coming out on top were Rosalie Fardon, Jean Wilkinson, Brian Couper and Salva Morales (82). Second was the team of Greta Hahn, Ann Kavanagh, Tony King and Jim Budd                       (81) and third were Margaret Budd, Steve Lyons, Tony Cordingley and Wolfram Hahn (79).
Marina Phoenix play Mondays (individual) and Thursdays (team game). To join us for a €25 greenfee. Ring Jim on 950 162 727 / 600 353 670 or Rosalie 950 397 117/ 697 512 882.