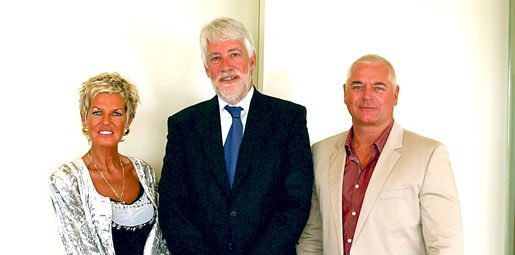 E X C L U S I V E    
GILES PAXMAN has been the British Ambassador to Spain since 2009. Now he is stepping aside – and leaving the Foreign and Commonwealth Office – after a long and glittering career.  He spoke exclusively to EWN Publishers Michel and Steven Euesden.
THE outgoing British Ambassador to Spain is set to finally achieve a long cherished ambition, to sail across the Atlantic Ocean.
After 35 years at the Foreign and Commonwealth Office (FCO) he is finally going to get the time to fulfil his dream. The 61-year-old father of three grown-up daughters, said: "It is something I have long wanted to achieve, which I will do later this year."
Diplomatically falling asleep at a Brussels dinner party
MR PAXMAN refused to own up to any embarrassing moments in his career in Spain. "It sounds boring, but I think I have been in this job long enough to be able to avoid getting myself into embarrassing situations!"
But it was different earlier in his career.
"In Brussels, I fell asleep at a dinner party. My head was dropping forward and I came round to see everyone looking at me!" 
Then there was a famous lunch appointment in Paris. 
"I had been trying to take an important contact out to lunch, but due to some confusion my secretary arranged for me to have lunch with someone else with exactly the same name. 
"But as I had never met either of the people before, it took me some time to realise that it was not the person I should have been talking to. 
"He was clearly mystified why a senior British diplomat had invited him to lunch!"
But before sailing off into the sunset, Mr Paxman talked to the Euro Weekly News at the British Embassy in Madrid.
He was in a relaxed mood as he discussed his life and future plans as his direction takes a new tack.
"I would like to say that my passions are sailing, and culture; discovering new countries and people. But really my true passion is my family and my job. That is what gets me out of bed in the morning."
And it is his family that he has missed most from the UK as he has lived a life overseas in Spain. Although he has the company of his French wife Ségolène Cayol, whom he met in Paris while studying, his three grown-up girls have now dropped anchor in England after a childhood spent travelling the world with their parents.
"I do miss my family and my friends. It is always a pleasure to see them when I go back."
He added: "I also miss London. I think it is a great city. It is very difficult to be bored in London!"
The tall, imposing presence of Mr Paxman belies his charm. As he chats, the distinguished-looking diplomat's presence fills the room. It is a surprise when he talks, as he is softly spoken, giving him the appearance of a gentle giant.
But after a lifetime in public service, the majority of it as a diplomat, he has an inner confidence, charm and strength that shines out as he sets about his business.
On his retirement from public life, he has no plans to be laid up: "I am looking for new challenges. I do think that after 39 years of public service (he spent four years at the UK's Departments of Environment and Transport before joining the FCO) it is a good time to be thinking of doing something different while I am still young enough." 
Chatting about remaining ambitions, he said: "Firstly, I want to achieve a better balance between work and life. I think I work too hard!
"Secondly, I would like give something back to society, to do some voluntary work. Maybe on environmental issues, as that is something I have always been interested in."
He added: "I would like to do something less hectic and focused; I am ready for a change."
He has no concrete plans for work outside the FCO, but refuses to be becalmed. His future life may include moving into the corporate sector.
"My ideal would be to spend part of my time on something corporate. And I would like to spend part of my time giving something back to society, and part of my time doing things I want to do, like sailing."
But despite getting the opportunity to spend more time relaxing, there are things he will miss from his life as a diplomat.
He said: "It is the variety of the job that I will miss. I do not know any other job that gives you that range of possibilities, interests and contacts.
"I am really privileged. It is a huge honour and pleasure to be here as Ambassador for my country."
As Ambassador, he is in charge of the entire British Foreign Mission to Spain, including the 12 consular offices and hundreds of staff. As well as representing the UK government at the Spanish court, he spends much of his time helping and encouraging British businesses to form trade links with Spain. 
And he looks after UK interests and the rights of UK citizens whilst in the country.
"It is tremendously rewarding. It is also very hard work."
He added that if he had not been a diplomat he would have had to find a job with similar rewards. "That is to go abroad and try to understand different cultures and countries.
"One job that would allow that would be journalism, a roving reporter or something similar."
FOOTNOTE: Jeremy Paxman – the globally-famed BBC journalist – is the Ambassador's brother.
 ROYAL AUDIENCE: Ambassador Paxman presenting his credentials in 2009 to Spain's King Juan Carlos.
Ensure economics add up, and beware isolation
THE main problems facing British expatriates living in Spain are economic, according to Ambassador Paxman. "A lot of people have less disposable income than they had in the past because pensions are now worthless," he said.
"Also this is coupled with isolation. When abroad, people in many ways are vulnerable, which is why they need to avoid isolation by getting to know the community." His advice to visitors and holidaymakers comes in two parts: "Firstly, prepare. 
"People should make sure they have the EHIC health card and comprehensive insurance, as well as any medicines they require, and sufficient money.
"Secondly, do not do anything silly!" Mr Paxman added: "So many problems are related to alcohol. It can range from people getting detained to people getting in accidents. "Unfortunately, consumption of alcohol and silliness go together. It is best to avoid both!"
Adding value to team
IN his time as Ambassador to Spain, Giles Paxman has faced many challenges.
"A lot of my achievements are in areas which are more to do with the achievements of my team than me personally.
"An Ambassador can only add value to the efforts of the team. But my main role is to bring focus to those efforts at a time when resources are tight. The main thing is to think strategically about where we can make a difference for Britain in Spain."
The brief he carries is a wide one: "From politics to economics, to the EU and defence, organised crime and trade and investment." He added that variety is what makes his job so interesting. He added: "My biggest regret is that Spain has been going through the economic crisis ever since I have been here.
"This creates big challenges and makes it more difficult to achieve what we want to. It impacts on the Spanish, and on the British people who live here.
"For example, trying to help British companies to export to Spain at a time when Spain is not buying very much is quite a big challenge."
But the other side of the crisis is seeing the changes Spain is going through. He said: "To be here watching those huge changes taking place in Spain is really fascinating."
Ambassador's brief:
• His Excellency: Timothy Giles Paxman CMG LVO (known as Giles)
• Assumed office 2009
• Formerly Her Majesty's Ambassador to Mexico 2005–2009.
• Born: November 15, 1951
• Education Malvern College, Worcestershire, New College, Oxford.
Look before you leap advice for Brit expats
GILES Paxman has some hard-earned advice for British people wanting to move to Spain.
"I do not want to discourage anyone from moving here, so many people come to Spain and have a wonderful experience. But some do not, because sadly they do not know what they are letting themselves in for," said Mr Paxman.
"They come over on holiday and think it would be a nice place to live, so they come over and find it is not quite what they wanted."
He said: "My advice to anyone is do your preparation, make sure you know how to support yourself, which is important.
"Find out about education and all those important issues. Make sure you know what you are doing."
Mr Paxman added that it was very important for people in a foreign country to try to integrate as much as possible in the local community.
"People will get much more out of their experience if they have local friends."
And he said that everyone relies on services provided by the local community, so it is a good idea to find out what is on offer.
"Go along to the town hall (ayuntamiento) and find out about activities. Make sure you sign up to the 'padron' so you have an official presence."
He said: "Try to learn Spanish. I know it is not easy, but it really is worth the effort.
"You can get so much more if people can speak in the local language rather than being restricted to the community of foreigners."
THE UK's new Ambassador to Spain will be Simon Manley, CMG, who is due to take up his appointment in October, following an assignment with the Foreign and Commonwealth Office in London as Director Europe.