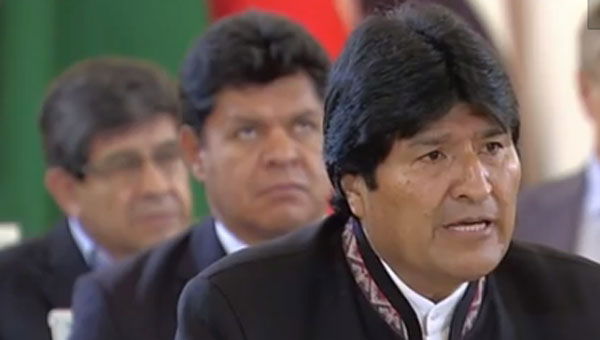 South America's leaders have rallied to support Bolivian President Evo Morales after his plane was rerouted amid suspicions that NSA leaker Edward Snowden was on board and have demanded an apology from France, Italy, Portugal and Spain.
The presidents of Argentina, Ecuador, Suriname, Venezuela and Uruguay joined Morales in the Bolivian city of Cochabamba late Thursday to address the diplomatic row. Morales used the gathering to warn that he would close the U.S. Embassy in Bolivia if necessary.
Morales has blamed Washington for pressurising European countries to refuse to allow his plane to fly through their airspace on Tuesday, forcing it to land in Vienna, Austria. He called it a violation of international law. He had been returning from a summit in Russia during which he had suggested he would be willing to consider a request from Snowden for asylum.
Spanish Foreign Minister Jose Manuel Garcia-Margallo said today that they and other European countries were told Snowden was aboard the Bolivian presidential plane.
The minister did not say who supplied the information and declined to say whether he had been in contact with the United States. But he says European countries' reactions were based on this information and added that Spain did not bar Morales from landing in its territory.