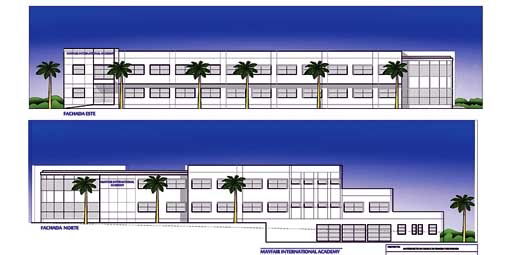 PLANS for a new building for Mayfair International Academy were unveiled at the Mayfair Summer Fair and Business Park. The new school is to be constructed close to the Estepona-Marbella border in the area of Diana Park. 
Mayfair International Academy is currently located close by in Atalaya Park on the beach side of the A7. The new construction will be on a 6,000-square-metre site with excellent access facilities.  
Emma-Maria Robertson,  Administrative Director for Mayfair International Academy, which was inaugurated 16 years ago by the Countess of Coventry, said they were looking to expand and increase facilities for the future.  "Our architect has been working very closely with Estepona Town Hall's planning department and the Junta de Andalucia, and we are delighted with the co-operation that both these entities have given to our project. Estepona Town Hall has been incredible and given us every assistance and much encouragement.  
"As well as more educational facilities the new academy will have a larger swimming pool, more sports amenities, ample parking and excellent access.  
"A critical factor in our original objective, when Mayfair Academy was inaugurated, was the staff-student ratio which allows excellent support and guidance to every student based on his or her specific abilities, interests and ambitions. We have not lost sight of this objective and intend to maintain our small class numbers to ensure that each and every student can maximise their potential," said Emma-Maria.
The new Mayfair International Academy will initially accommodate 450 students, and there will be a second phase for future expansion. The building was designed by local architect, Tony Murphy, who will utilise the latest conservation technology and it will be constructed by local builders creating jobs for local people. When completed there will be some 45 staff excluding outside contractors. 
Mayfair International Academy is an Examination Centre for UCLES (Cambridge), AQA and Edexcel for GCSE, IGCSE, A Level examinations and the International Diploma and achieves a 70 per cent pass rate at A-C.