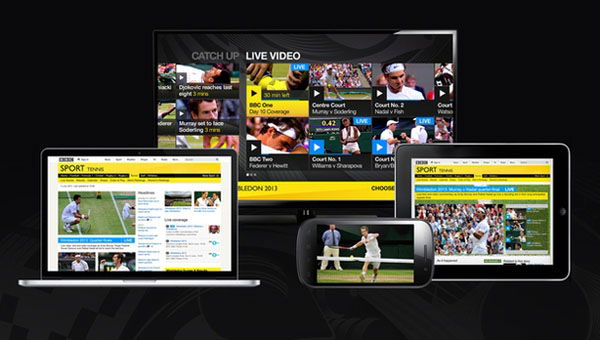 BBC Sport has confirmed its plans for digital coverage of this year's Wimbledon tennis tournament. The broadcaster will operate a record 10 live streams dedicated to the Grand Slam tournament across tablets, smartphones, connected TVs and PCs, as well as on-demand coverage. The BBC Sport online video player will host all the action from the tournament, in HD wherever possible, and offer highlights packages and clips from the broadcaster's panel of pundits. Text commentary will also be available on the organisation's website and audio streams will be aired by BBC Radio 5 live. Highlights will be accessible via BBC iPlayer for seven days after each match. Viewers can access the majority of this content on the move via BBC Sport's mobile website or through the BBC Sport app for iOS and Android devices. Connected TV users can tune in via the BBC Sport App or on iPlayer, while viewers on cable, satellite and digital terrestrial can access up to three streams with the red button. To find out how to access BBCi player and more from Spain please feel free to call me on 678 332 815.
Plot details for the third season of Luther have been released by BBC One. Idris Elba returns to the detective series this summer for four 60-minute episodes, which will also star Warren Brown and Ruth Wilson. The BBC has confirmed that the first instalment of series three will feature John Luther (Elba) tackling a "twisted fetishist", who appears to be a copycat killer of an unsolved case from the '80s. However, the detective's priorities will be torn between that case and another, which involves a "malicious internet tormentor" found dead at his home.  The episode description reveals: "With so many people wanting the tormentor dead, Luther needs to apply brute force to a key witness for more information, unaware that every move he makes is being watched." The first episode will also see the introduction of Sienna Guillory as Mary Day, a new love interest for Luther.
Olympic gold medal winner Nicola Adams has begun filming for a guest part in Waterloo Road. The boxer will play herself in an episode involving a character getting into boxing. Adams told The Sun's TV Magazine: "It's great to be here. I love Waterloo Road, I watch it after training!" She did, however, admit that she was struggling with some of the basics, saying: "I keep calling people by their character's name!" The Olympian has previously had cameos in Coronation Street and Emmerdale. She received an MBE in March. Her Waterloo Road episode will air in October.
If you would like me to answer any questions you may have on satellite TV or to expand on anything I have written about please call me on 678 332 815 or email richard@europa-digital.com I look forward to your comments and questions.  Don't forget to listen to my radio show every weekday from 10am on Spectrum Radio (90.8fm), or listen online at costaalmeria.spectrumfm.net for the latest news and views from the world of satellite television.